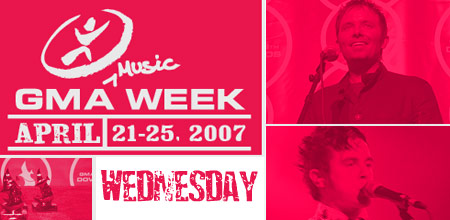 Wednesday is the most bittersweet day of GMA Week because it marks the end, while also usually offering the lightest workload of the week. We started the day a bit later which was a nice change, and met up with former Chasing Furies vocalist Sarah MacIntosh for a relaxed interview in the Hilton Hotel lobby. From there, we had a spur-of-the-moment lunch date with a friend from MusiChristian.com, and traveled to the Opry Mills Mall to kill sometime before the GMA Dove Awards ceremony.
When the press room opens for the GMA Dove Awards, media is holed up in a sectioned-off space suitable for media outlets to set up camp to cover the Awards happenings. Media is stationed there while the ceremony is still rehearsing, and remains there long after most of the audience has filtered out of the Grand Ole Opry. It all adds up for a potentianlly exciting and fun, but guaranteed tiring day. As awards started being passed out, artists began trickling through the press room, and nearly fifty artists and celebrities made their way through before the night was over.
Not everyone who made it through the line, so to speak, was given the grand press attention. Sadly, artists like Family Force 5 and All Star United were nearly met with silence instead of given the attention they deserved. But some of the best interactions came from artists like Steven Curtis Chapman, who candidly talked about extinguishing a recent fire in his home, KJ-52, who performed a freestyle rap upon request about how he felt winning a pair of Doves, T-Bone, who's hyperactive persona lead to a special partial performance of a new track just for the press, child actor Grayson Russell, who boldly spoke of how his faith came into play on the set of the film Talladega Nights: The Ballad of Ricky Bobby, Audio Adrenaline, who were given a honoring standing ovation before leaving the room, and still others. (For a complete list of Dove Award winners and more information about the ceremony, visit www.doveawards.com)
After the Dove ceremony ended, the Creation Fest folks were hosting a party at the Rocketown club in the city of Nashville, open to all GMA attendees, Dove ticket holders, and even to the public (for a small cover charge). Boasting a lineup including KJ-52, Jackson Waters, Story Side:B, The Send, Run Kid Run, John Reuben, Family Force 5, and Falling Up, the party offered a mix of styles that carried the fun into Thursday morning. By the time we arrived, the party was in full-swing, and nearly half over as many of the artists had played already and the pop/punk sounds of Run Kid Run could be heard while upstairs. The toughest part about the party was deciding how to spend our time. With so many friends - local and from afar - gathered in one place (and the distracting presence of not one, but TWO chocolate fountains!), it was even difficult to tear ourselves away from the mingling upstairs long enough to watch Family Force 5 perform second to last. Sadly enough, the party was pretty much finished by the time FF5 was done, and very few were left for headlining act Falling Up.
Family Force 5 performed their reliably energetic and raucous live show, teasing the crowd with a lick from "I Love You To Death" during their soundcheck, but opening instead with "Drama Queen." Although the crowd wasn't as responsive as, say, one that the band would normally play for earlier than after one o'clock in the morning, the band rocked on, earning an especially enthusiastic reaction to their next song "Love Addict." The set seemed to be over as soon as it began, unfortunately, as it wasn't long before they were closing with their signature outlet for unbridled excitement and energy, "Earthquake." Falling Up followed, with several members bearing a distinctly different look than many may be accustomed to, and they performed fan favorites like "Broken Heart," "Searchlights," "Islander," and "Moonlite" before the night's end. After all was said and done, John Reuben announced the winner of the night's contest, giving a lucky audience member an iPod.
We said goodbye and goodnight to our Family Force friends, and spent a moment with John before heading back to our hotel for the night. Although we were entirely spent, it was rather sad that another GMA Week had come and gone. But 2007 proved to be another year of festivities filled with great music, networking, and friends. It's the perfect way to connect and bring the industry together in one place, and while it was a lot of work and quite a busy time, I don't think next April could come soon enough.
Until next year... --
John DiBiase
, 5/2/07
GMA Week: Wednesday Photo Gallery
click on an image for a bigger size
Keith and Christine Getty -- GMA Dove Awards
Third Day
-- GMA Dove Awards, Winner for Christmas Album of the Year
Steven Curtis Chapman
-- GMA Dove Awards, Winner for his contribution to the Instrumental Album of the Year
KJ-52
-- GMA Dove Awards, Winner for Rap/Hip Hop Album and Rap/Hip Hop Song of the Year
Superchick
-- GMA Dove Awards
Crabb Family
-- GMA Dove Awards, Winner for Traditional Gospel Recorded Song
Karen Clark Sheard & Otto Price -- GMA Dove Awards, Winner for Contemporary Gospel Album
Travis Cottrell
-- GMA Dove Awards, Winner for Musical Of The Year
Britt Nicole
-- GMA Dove Awards
Building 429 w/ Habitat For Humanity
-- GMA Dove Awards
Jessie Daniels
-- GMA Dove Awards
Trinity 5:7
-- GMA Dove Awards
T-Bone
-- GMA Dove Awards
Illusionist
Brock Gill
-- GMA Dove Awards
Comedian
Thor Ramsey
-- GMA Dove Awards
Ed Cash
-- GMA Dove Awards, Winner for Producer Of The Year
Actor
Grayson Russell
-- GMA Dove Awards
Rebecca St. James
-- GMA Dove Awards
TobyMac
-- GMA Dove Awards
Family Force 5
-- GMA Dove Awards
Mandisa
-- GMA Dove Awards
DecembeRadio
-- GMA Dove Awards, Winner for Rock Album Of The Year
Take 6
-- GMA Dove Awards
MercyMe
-- GMA Dove Awards
Zorro
-- GMA Dove Awards
Stellar Kart
-- GMA Dove Awards, Winner for Rock/Contemporary Song of the Year
Audio Adrenaline
-- GMA Dove Awards, Received Surprise Honor for Career
Red (w/ producer Rob Graves)
-- GMA Dove Awards, Winner for Rock Song of the Year
Connersvine
-- GMA Dove Awards
Nicole C. Mullen
-- GMA Dove Awards
Brian Free & Assurance
-- GMA Dove Awards
Aaron Shust
-- GMA Dove Awards, Winner for Song, New Artist, and Songwriter of the Year
Ian Eskelin (All Star United)
-- GMA Dove Awards, Winner for Rock/Contemporary Song (w/ Stellar Kart)
Brenda Lee & Michael W. Smith
-- GMA Dove Awards
Natalie Grant
-- GMA Dove Awards, Winner for Female Vocalist of the Year
Leeland
-- GMA Dove Awards
Brian Littrell
-- GMA Dove Awards
Casting Crowns
-- GMA Dove Awards, Winner for Pop/Contemporary Song and Group of the Year
Chris Tomlin
-- GMA Dove Awards, Winner for Male Vocalist, Artist, Worship Song, Worship Album, Pop/Contemporary Album of the Year (& more!)
Family Force 5
-- Dove Awards After Party @ Rocketown
*all photos by
John DiBiase
and are the property of
Jesusfreakhideout.com
GMA Week 2007 Review: Main | Sunday | Monday | Tuesday | Wednesday