On August 13th, 1996,
The Jesus Freak Hideout
began. Ever since that day, the JFH has been bringing the latest in Christian music to you every day. In 1998, JFH founder
John DiBiase
started putting his love for movies to good use by starting to review movies from a Christian perspective. In honor of 25 years of the site in 2021, John is taking a look back at over two-and-a-half decades of movies, picking a top favorite for each year from 1996 to 2021 (with 2021 being added in December). Check out the countdown, starting with 1996, below...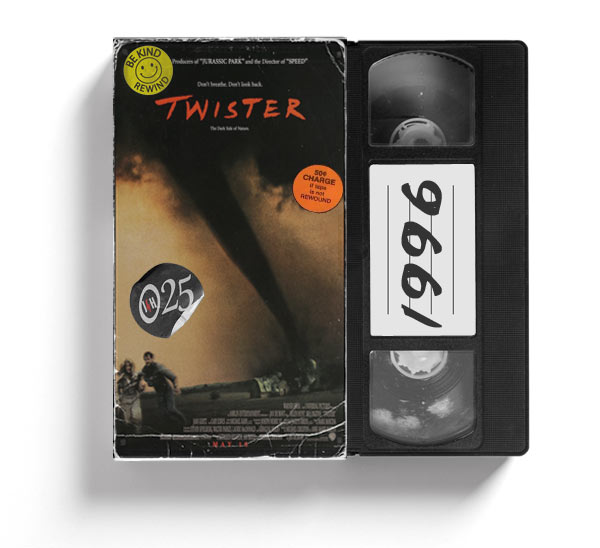 1996



Twister
Rating: PG-13
Director: Jan de Bont
Cast: Bill Paxton, Helen Hunt, Cary Elwes, Philip Seymour Hoffman
Release Date: May 10, 1996

Let me start off by saying -- most of the movies I picked here have something about them that I'd change or make me hesitant to outright recommend, so this is a list of movies that I really enjoy and / or that have come to mean something to me over the years. I started JFH in 1996 as a sophomore in high school, so I was kind of just getting into seeing movies in theaters with friends - without my parents - for the first time.
Twister
was one of the first - if not the first - movie I saw with friends in the theater. Over the years, my wife Amy and I have continued to enjoy seeing this movie - and experiencing the attraction at Universal Studios (R.I.P.). The one thing I've always hated about this movie, though, is the frequent use of blasphemy and other curse words. It was one we took advantage of watching through the now-defunct editing service CleanFilms, but it's also one that I've grown to know well enough to be able to mute out some of the language with my remote (Fastest muter in the east!). Anyway, the characters, story, and nostalgia of this movie keeps us coming back to it.
"Food!! Food!! We crave sustainance!"
Honorable Mentions:
Mission: Impossible
. I don't think Tom Cruise's first outing as Ethan Hunt in
Mission: Impossible
has aged gracefully, but the latest sequels that franchise has spawned have been pretty fantastic. Still, there's definitely a charm to the first
Mission: Impossible
movie... and the confusing plot feels much less confusing these 25 years later. (Ha!)
-
John DiBiase
JFH 25: John's Top 25 Movies From 1996 to 2020
1996
|
1997
| 1998 | 1999 | 2000 | 2001 | 2002 | 2003 | 2004 | 2005 | 2006 | 2007 | 2008 | 2009 | 2010 | 2011 | 2012 | 2013 | 2014 | 2015 | 2016 | 2017 | 2018 | 2019 | 2020 | 2021