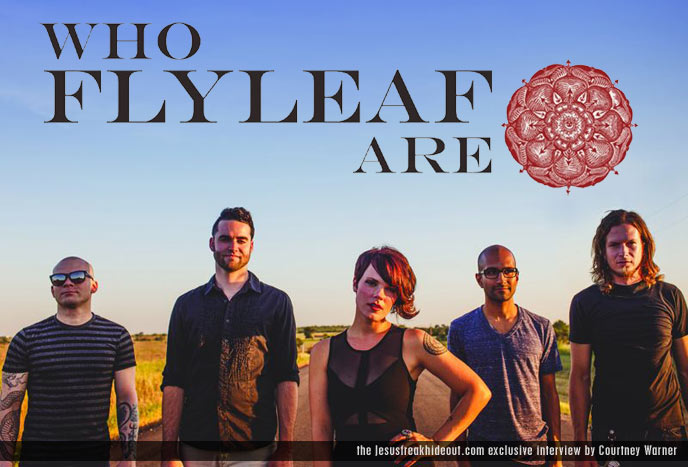 While on their summer tour with P.O.D,
Flyleaf
's guitarist Jared Hartmann took some time out to talk to Jesusfreakhideout.com's Cortney Warner about their latest album,
New Horizons
, the departure of Lacey, the addition of Kristen, and their new EP,
Who We Are
...
This interview took place on: July 16, 2013.
JFH (Cortney Warner): Last fall, you guys released your newest record, New Horizons, and at the same time, Lacey announced her departure from the band. When did she decide to leave?
Jared Hartmann: It was shortly before we recorded the record, and I think it was when it wasn't finalized, but it was kind of in her head that she wanted to stay home and take care of [her baby] Jack.
JFH (Cortney): Gotcha, did you guys ever consider breaking up, or starting over with a new name, because of all of the different changes? And why did you guys choose to keep going as 'Flyleaf'?
Jared: We chose to keep the name because we've been playing for ten years. I mean we were getting a new singer so it was kind of, you know, it was a little bit of an obstacle to get over, but we felt like we were all part of this band, and it's something we've done for 10 years, and we didn't really think we needed to change the name.
JFH (Cortney): So how did teaming up with Kristen (May) come about? Did you consider other people for the role, or was she always the choice?
Jared: No, we auditioned a couple other singers, and it just worked out, the timing of it. She came in really prepared, and has a good voice, and could evolve with us, and then we just played some shows, and have been going from there.
JFH (Cortney): Since Lacey's departure and the addition of Kristen, where do you see your sound heading?
Jared: There are some slight changes because Kristen has a different voice than Lacey and a different style, and you know, we're still evolving too, as a band, and I think our fans can expect... I still like metal, most of us still like metal; we still have those influences, so there'll be some heavy songs, and some more radio friendly songs, and things like that. So I think we always kind of had that in our music anyway, and I think we'll continue to build on that in the future.
JFH (Cortney): On your new song, "Something Better," you've got Sonny from P.O.D. as a guest vocalist. How did the whole collaboration come about, and why did you choose him for that specific song?
Jared: Howard Benson is their producer as well, so he produced the song, and Sonny just happened to be, I think, in the studio, and it was kind of casually brought up like, "hey, we have a song, do you want to sing on it?" and so he was like, "yeah, I'd love to sing on it" and he was all out in L.A. doing that--because they were mixing the song--and we were all back in Texas, most of us, and we were like, "yeah, just do whatever you want, we're sure it's going to be great." So then a few days later, we heard a mix of it, and it was awesome.
JFH (Cortney): It turned out really well; I got a chance to listen to it a little while ago, really good tune.
Jared: OK, cool. Thank you!
JFH (Cortney): So when can fans expect a new LP from you guys?
Jared: We're working on new music right now, there's no set date for recording or release, but we're definitely writing new music and heading towards that, so keep checking the website. I'm sure once we confirm something, we'll be shouting from the mountain tops. *laughs*
JFH (Cortney): How has the writing/recording process differed on the new music, has it changed at all?
Jared: for all the New Horizons stuff, you know, Lacey had moved to Pittsburgh, so we did a lot of the writing with just us guys at our studio in Texas, and I think it was a little bit of a different process than it had been on the previous records, because we'd all get together and record, but we did meet a couple times during that in Pittsburgh to write with Lacey. She came down to Texas a couple times, but a lot of it was just us guys writing music and getting stuff ready, and then having the vocals, kind of adding them at the end. So that was a little bit different than the past writing processes we've done with Kristen, because we're a full band and we kind of get in there and jam stuff, so yeah, it's just a different process.
JFH (Cortney): On New Horizons, who was the guest singer on "Mama"?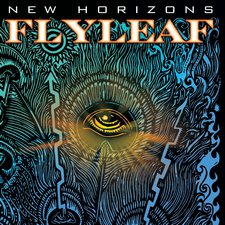 Jared: That's actually Lacey's mom.
JFH (Cortney): Really? Aw, that's sweet.
Jared: Yeah, she came in and sang a little on it.
JFH (Cortney): That's really cool. So what kind of guitar gear did you use on New Horizons?
Jared: Man, we had everything you could dream of at Howard's studio. Every song pretty much had a different amp and different guitars, but we used a lot of Diezl (Amplifiers), that's one of my favorite amps, and Marshalls, and PRS (Paul Reed Smith guitars), used some old, vintage guitars that our engineer had... so we got a lot of cool sounds, got to experiment. It's really fun for guitar players at their studio, because they have one of the best guitar techs, Mark, and he's just take any pedal and can dial any tone you want. It's like, "I want something like this" and he'll just get it for you perfect, so it's just a lot of fun for us guitar players to experiment with sounds and pedals.
JFH (Cortney): Very nice, I also play guitar, so that sounds awesome! *laughs*
Jared: Yeah, I was wondering, I thought you did.
JFH (Cortney): So looking back, was there ever a pivotal moment that made you realize that playing professionally was what you wanted/felt called to do?
Jared: I think whenever we got signed was when I thought, "oh, I can actually do this, and it's going to be a career" you know, for a long time? This was just fun, and I thought that I'd eventually have to get a real job or do something else, but God kept providing opportunities for us to make money and support ourselves, and just kind of as the band grew, the need for financial stability kind of grew, and it just kind of ended up working out hand in hand. So we've been fortunate and blessed that we've got to do this as a career.
JFH (Cortney): That's really cool. Do you have a favorite artist or band you're listening to lately?
Jared: You know, I've actually been listening to a lot of rap and country music since we've been home, and I just listen to the radio. But my last favorite of rock records I've got was TV On The Radio, I really dig them.
JFH (Cortney): Kind of going along with that, who are your musical influences, personally?
Jared: It's kind of eclectic. I grew up listening to Third Eye Blind; I really love that guitar-driven pop rock, and then as I got a little older, I got into Deftones and Slipknot, and I was like, "wow, this is really cool!" So it kind of ranges from there, and there's a bunch of local bands in Texas that influenced me a lot, like how to play guitar, perform, tones and stuff. A couple of those were The Feds and Greatest Tragedy.
JFH (Cortney): Those are some good bands. What's God been teaching you lately?
Jared: God's really been teaching me about faith and trust; this whole past year has been, you know, it's been trying. He's really stretched us, really. We really had to put our faith in Him, like never before.
JFH (Cortney): Finally, anything else you want to add?
Jared: Buy our new EP, "Who We Are," and come see a show!
Flyleaf's brand new EP, Who We Are is available everywhere music is sold!