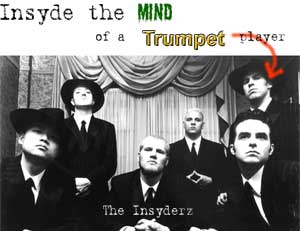 The Insyderz are one of the best ska-core bands around. They've spent the last 2 years creating 3 great albums (with another on the way), touring the country, and just plain making great music. Trumpist
Bram Roberts
dropped his brass for a moment while recording
Skalleluia 2
to answer some questions.
This interview took place on: 4/23/99.
Jesus freak Hideout: Why the name, "Insyderz?"
Bram Roberts: Duran Duran was taken. It's from Col. 4:2. The world are the outsiders, so we must be the Insyderz.
JFH: How did the band get started?
Bram: Joe and Nate started leading worship at their church, and decided to form a Ska band.
JFH: How would you describe your sound?
Bram: Harder edged ska with punk and metal influence.
JFH: What bands have influenced your sound?
Bram: Bosstones. Britney Spears. POD.
JFH: What is the song "The Hunted" about?
Bram: It's from a dream that Joe had. The devil is after him, but through the power of the Lord, the tables turn.
JFH: What inspired the song, "Forgive and Forget?"
Bram: It's about Joe's Dad who left the family when Joe was in high school. The claw is a goofy thing that was when Joe's Dad tickled him, but it's really symbolic of a child's fear and the need for a father's love.
JFH: What is the story behind the hidden track on your new album, Fight of My Life?
Bram: It was written and performed by our buddy F. Albert Lenz who toured with us. Each line has some kind inside joke from tour.
JFH: What is your favorite Insyderz song?
Bram: Buddy Boy. Listen and you'll know what it means.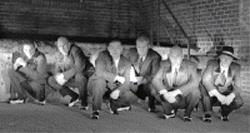 JFH: What is your favorite scripture verse?
Bram: Proverbs 3:5-6.
JFH: What is your favorite movie?
Bram: Star Wars or 3 Amigos
JFH: Do you prefer Mountain Dew or Surge?
Bram: Neither. Cream Soda
JFH: What's your favorite thing to do to keep busy while on tour?
Bram: Play station
JFH: What does the future hold in store for the Insyderz?
Bram: Lot's of rock. Lot's of love. Lot's of God.
JFH: The Jesus freak Hideout site was started out of appreciation for good Christian music. We've set a goal to try to use the site to spread Christian music, as well as God's Word, & show others how great Christian music can be. Do you listen to Christian music? If so, what bands?
Bram: Prayer Chain, Plankeye, Supertones
JFH: I really appreciate you taking out the time in your busy schedule to answer some questions for us. Are there any last comments you'd like to make?
Bram: My girlfriend Heidi is the hottest girl in the world.
Um... uh, sure, Bram. Well, thanks! Looking forward to Skalleluia 2!