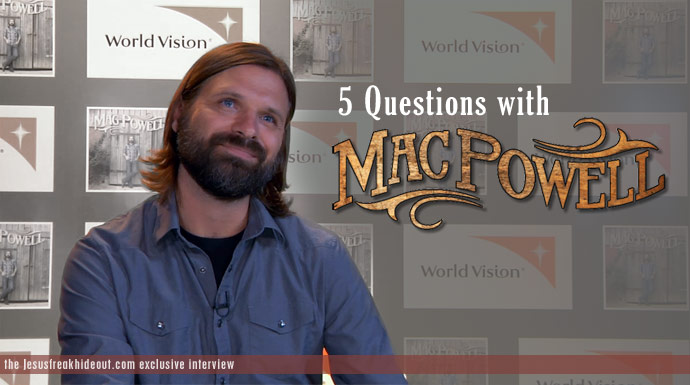 As part of a special opportunity in association with World Vision, JesusfreakHideout.com had the chance to quiz singer/songwriter Mac Powell about his recent solo country album, the upcoming Third Day album,
Miracle
, and his experiences with World Vision. Be sure to scroll down to the bottom of this page to watch Mac's video interview of these 5 questions!
This interview took place on: 9/4/12.
JFH (Cathy Payton): You recently released your debut country project. What would you most like to come out of your foray into country music?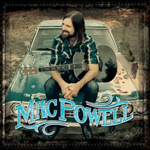 Mac Powell: That's a great question. I think there are a couple things that I would love to come out of, with me making this whole country record. I think one thing is that it would be great for people to recognize that as a songwriter you can be a Christian and not just have to write about Jesus in every song. Because I think as a person of faith, my life is not compartmentalized. I don't have my life on Sunday, or my life on Wednesday night, my life on Saturday; I'm the same person throughout that. So whether I'm writing a record for Third Day or writing a country record, my faith in God kinda shapes me as a person. So I think I would want people to know that, that I'm the same person and that I'm not gonna change -- and yet as a songwriter I can have these different challenges and these different things that I can talk about that don't necessarily fit within the Christian music genre when I write, and when I'm making a country record.
JFH (John DiBiase): Is there a song you're most proud of on your new country project? Can you tell us about it?
Mac: I'm a little biased, I'm kinda proud of the whole thing, so it's hard to pick one song that's a favorite. There's a song called "Julia Ann." I tried to write it in a way where (it's one of those surprise ending songs I tried to write, and I hope I'm not ruining the surprise for people who haven't heard the song), basically you hear it and you think, this man is singing about this woman Julia Ann that's left him and he talks about 'why did you leave me?' but at the end, you find out she didn't necessarily leave, she actually passed away. That's kinda of the big surprise moment. I wish I could make a video about it; that would make a cool video. I'm proud of it because it's actually about my grandmother. I wrote it in a way where you wouldn't know that, you would think it's about a man talking about a woman but it's about my grandmother who passed away when I was in high school. And I was really close to her, and her name was Ann Julia. So I just kinda flipped her name around and wrote Julia Ann and so it's kind of a song that I wrote for her.
JFH (John): Can you tell us a little about the upcoming release of Third Day's album Miracle? What can fans expect?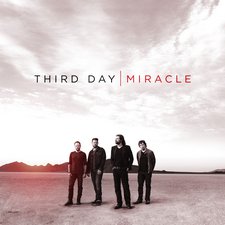 Mac: Yeah, Miracle is the new Third Day album. It'll be out November 6th. I'm very fortunate to get to make two different records within a six-month-to-year timetable. And not a lot of artists get to do something cool like that. I made a Christian record and a country record. And I feel like they both stand on their own and are great records, and of course I'm biased in that I hopefully think that. But Miracle is a very different record for us in Third Day. We got to work with a producer named Brendon O'Brian who's one of the biggest producers in rock history. He's worked with great artists like Pearl Jam, Train, Bruce Springsteen and most recently with The Fray. And so this guy who has made all these great records that we've loved, not only back in the day but today as well, to get to work with him, to be the first Christian band that he's ever worked with and to have him love the record... There's one song specifically that we worked on that he said is one of the greatest things he's ever recorded. So it's really an album that we're proud of and can't wait for people to hear and I think we've found a great balance between being Third Day and who we are and having that sound that people like who are Third Day fans, but at the same time kinda taking a step forward in a different direction to have something fresh and new for our fans to hear.
JFH (John): Is there a song on Miracle that you think will surprise listeners from a musical standpoint?
Mac: Yeah there are a few songs that I think will surprise our listeners on the new Miracle CD. One is called "Hit Me Like a Bomb," and it is very, very straightforward rock that people haven't heard this kind of sound from us before. The other song that is also very different for us musically is called "Kicking and Screaming" and it's really a fresh, different cool sound from Third Day that you haven't heard before. I always like to play the records for my family, for the kids, to see how they respond. I feel like if my kids respond to positively, in a positive way, then the fans are gonna love it. They run around the house singing it all the time. So "Kicking and Screaming," look for that one.
JFH (John): How has your work with World Vision greatly affected your life as a father and Christ follower?
Mac: The work that we've done with World Vision has affected my life in a lot of different ways. To be not only the lead singer of a band that's worked with an organization for so long to help bring about the message of World Vision and what they do, and share that with our fans, but in turn to have our fans respond in such a positive way that in the past 15 or so years our fans have sponsored over 20,000 children and helped bring about food for kids that don't get a lot of good, or clean water for families, or medicines that are much needed in Third World countries or education that's so important to kids. That's affected me, not only from knowing that, but for going to different places around the world, specifically to Haiti, to see all of those things that I've talked about for years, to see that coming into effect and to see these kids, to not only see a picture of them, but to see these children, to see the joy that is brought into their life because of the work of World Vision and our fans.
Mac Powell's self-titled debut country album is available now! Third Day's Miracle releases everywhere November 6, 2012!