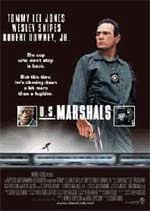 U.S. Marshals


- violence & brief language.
Director:
Stuart Baird
Starring:
Tommy Lee Jones, Wesley Snipes, Robert Downey, Jr.
Running Time:
2 hours, 11 minutes
Plot Summary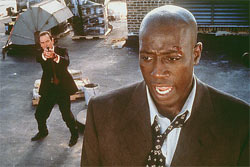 Tommy Lee Jones reprises his role as Chief Deputy Marshal Samuel Gerard from the blockbuster, The Fugitive, where he played alongside Harrison Ford. U.S. Marshals isn't exactly a sequel, but a spin-off. In U.S. Marshals, a ruthless and mysterious assassin played by Wesley Snipes is on the run from the law while trying to discover who framed him for two murders in New York City. Gerard is brought in to hunt him down, but discovers there's a lot more to the story than he originally thought.
Film Review
Unfortunately, the film makers did try to include in U.S. Marshals the things that made The Fugitive the hit that it was. The movie starts out with Gerard and his team (the same four crazy side-kicks Gerard had in The Fugitive) making a bust, and they celebrate their accomplishment afterwards in a bar. Gerard's boss then assigns him to accompany his capture to jail aboard a convict plane. And just like in The Fugitive, something goes wrong, which causes the plane to crash (just like the bus accident in the previous film). Mark Sheridan (Wesley Snipes), who was "framed" for killing two government agents in cold blood, manages to escape during the accident and so the chase begins. The focus of this film does not lie with Sheridan's character this time around, but on Gerard.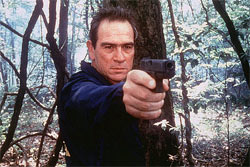 First of all, I think it was a brilliant idea to make a movie based on Gerard and his team, however, the film makers failed to give the film its own identity. The film contained so many similarities to the original that it made U.S. Marshals feel like it was trying too hard to make lightening strike twice in the same formula. Frankly, for me, the average movie viewer, it didn't bother me except for what I said above-- It doesn't have its own identity. Again, there's a fugitive. Again, there's a severe vehicle accident in which the fugitive gets away. Again, there's a major search. Again, there's a daring jump off a high place when the fugitive is captured. The film has many original characteristics, but are ultimately tainted by Fugitive rip-offs. Of course, I may be a bit biased, being a big Jones fan and also a fan of these characters, but if you can set aside the familiarity of the film and look at it as a whole, it is quite entertaining and well-done.
The movie, in itself, is quite good, but rather violent. The PG-13 rating was definitely earned (read "blood/gore" content below). There was plenty of cursing in it, as well. The "f" word was used once for comedic reasons, but it was most unnecessary. This film is pretty bloody for a PG-13 film, as well, with some gun inflicted gory moments that don't leave a lot to the imagination. Sexual content is thankfully excluded, but they didn't seem to leave much else out instead. It's a shame, too, because it could have been a much more enjoyable film without it.
- John DiBiase, 1998
Parental Guide: Content Summary

Sex/Nudity
: None. We just see a cop walk in on a girl in a dressing room who has a dress on, but the shoulder straps are down.

Vulgarity/Language
: 1 "f" word, 16 "s" words, 2 "g*dd*mn," 20 "hells," 4 "S.O.B.'s," 1 "J-sus Chr-st," 3 "J-sus," 3 "G-d," 2 "Swear to G-d"

Alcohol/Drugs
: Beer, liquor, martinis, champagne.

Blood/Gore
: We see blood on Sheridan's head after a truck accident. When Sam is checking out the gym, he finds a dead man in the shower whose throat has been cut and we see some blood. We see a man shot in the chest with pretty bloody results. There is blood all over him, his mouth, and the wall behind him. Some photographs of murders are a little bloody. A sniper shoots a man in the back of the head & we see the impact briefly via the sniper scope. We see a man get shot in the shoulder that is rather bloody. We see the slightly bloody bullet hole in a man's shirt after being shot.

Violence
: Lots of it. People are shot at (some are shot and killed); shot with no blood; punched; there's a fist-fight; several car accidents; surveillance tapes showing murders with no graphic violence just gun-shots & physical combat; a plane crash; people are sucked out of the plane, drown after the crash, etc.
Disclaimer: All reviews are based solely on the opinions of the reviewer. Most reviews are rated on how the reviewer enjoyed the film overall, not exclusively on content. However, if the content really affects the reviewer's opinion and experience of the film, it will definitely affect the reviewer's overall rating.
To find out why we don't typically review R-rated movies,
click here