UK'S SUPERHERO DEBUTS IN U.S. IGNITING STAGE ON 'THE DRIFTER TOUR'
NEWS SOURCE: Morningstar PR
November 5, 2007
(Nashville, Tennessee) –November 5, 2007 – One of the U.K.'s most talked about emerging Christian bands in '07, Superhero, are in the U.S. for an October-November billing on The Drifter Tour, a Compassion International sponsored tour headlining DecembeRadio, along with Nevertheless, and Bread Of Stone.
The tour, which launched October 19th, will give many U.S.audiences their first glimpse of the five man Euro guitar band who originated their intense, innovative rock in the pubs and clubs of Glasgow, Scotland before God turned their individual lives and collective attention as a band totally vertical. Breaking now to a wider European audience, Superhero is committed to their role as modern day musical prophets with a global mission.
Notes band founding member Tim Cheshire whose vocals, guitar and prolific songwriting help put a powerful engine behind the band: "Superhero is focused on bringing a message to the church—a message to stand together as Christians and change the world. We've seen hundreds kids saved at our gigs and through the influence of our music—that is truly 'success' as a group in our minds."
In addition to Cheshire, Superhero is composed of Mike Uphill (drums), Mike Cheshire (keys), Jon Darby (lead guitar), and John McAdam (bass). They are managed by one of Christian music's key European promoter/managers, Gary Smith, and credit John Cooper of Skillet as a key supporter of the band.
The addition of Superhero to DecembeRadio's first ever headlining tour offers U.S. concert goers an exciting introducing to what all the excitement in the European Christian market is all about. The tour will run through November 18th, hitting 18 market stops with the music and message. Superhero will be back Stateside to headline their own U.S. tours in February and May of 2008.
For additional information, resource Superhero online at: www.myspace.com/superherouk and www.superhero.org.uk
# # #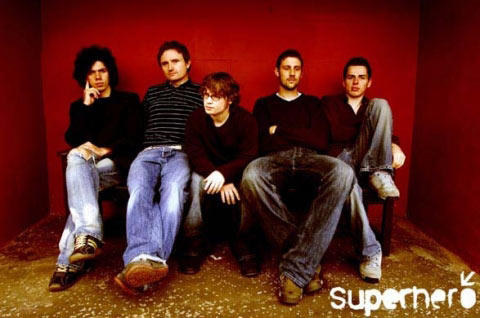 [2022]
Jan. | Feb. | March | April | May | June | July | Aug. | Sept. | Oct. | Nov. | Dec.
[2021]
Jan. | Feb. | March | April | May | June | July | Aug. | Sept. | Oct. | Nov. | Dec.
[2001 - 2022]
Visit our complete MUSIC NEWS ARCHIVE