INO/COLUMBIA RECORDS' MIKE FARRIS CONTINUES TO CREATE A BUZZ WITH PORTER WAGNER TRIBUTE PERFORMANCE & AMERICANA INTERVIEWS
FEATURED ARTIST ON GOSPEL MUSIC CHANNEL'S NEW SHOW "KITCHEN SINK" DEBUTING NOVEMBER 17TH
NEWS SOURCE: The M Collective
November 15, 2007

NASHVILLE, TN...November 15, 2007...Following his INO/COLUMBIA Records' debut release earlier this summer, Salvation in Lights, Mike Farris continues to build his fanbase as he most recently performed for the Porter Wagner Tribute on October 31st at the Tennessean State Museum in Nashville, TN during the 8th Annual Americana Music Association Festival. At the tribute, Farris's performance was said to have "hushed the crowd with the soulfully rousing version of Green Green Grass of Home" (twangnation.com). The performance was captured and posted on YouTube.com at: http://youtube.com/watch?v=w4fy6JEeKMg .
In addition to the inspiring performance and showcase during the AMA Music Festival, Farris just recorded his performance for "Kitchen Sink" the new hour long program on Gospel Music Channel, which debuts this Saturday, November 17th. Farris will appear on the debut program along with his song "Precious Lord Take My Hand" being chosen as the theme song for "Kitchen Sink" as well as composing original music for the series. For more information: http://www.gospelmusicchannel.com Other media appearances coming up include two XM Radio shows: Marty Stuart's program airing New Year's Eve and Marty Fitzpatrick airing this week on X Country.
Check out below for what others have to say about Mike Farris' performance during AMA week:
"Mike Farris has enough heart, soul, and power to light up a city. He mixes up the elements and turns them into something new, beautiful, and uniquely his own." --Buddy Miller
"Mike's set was truly dynamic and one of the most thrilling and audacious performances I've seen in a long time. His show will be remembered as one of the great highlights of the convention." --Tim Kolleth Alligator Records
"Mike Farris was for me the absolute highlight of the entire AMA Conference. He blew me away with his intense performance of "Green Green Grass of Home" at the Porter Wagoner tribute, but his performance with a 10-piece band at the Cannery was tremendous. The joy emanating from the stage was overwhelming, and literally brought me to tears! Mike has found his calling – the most amazing new gospel/soul voice I've heard in a long time, he's a superstar waiting to be discovered by an audience longing to hear him." --Wildman Steve, WQNR, Auburn, AL
"Upon first hearing the new Mike Farris record I was knocked out and looked forward with eager anticipation to his AMA showcase. He did not disappoint, what a show, what a voice! Great stuff that deserves your attention." --Brad Paul – Producer & host, WGBH – Boston
"Sometimes you have to go through hell to reach heaven, & watching Mike Farris perform songs off "Salvation In Lights" with a full band, I'd have to think someone earned his wings. Fantastic Show bordering on a religious experience." --Larry Timko, WIKX
"His showcase was amazing, he was the surprise of the conference, it was phenomenal." --Jeff Powell, WGWG, Charlotte
"Mike had the room mesmerized with his soaring vocals and stage presence. If Mike brings this ensemble on the road to a town near you, you had better go because you WILL NOT be disappointed, I guarantee it!" -- Big Kev Ploghoft, WXLV, Schnecksville, PA
# # #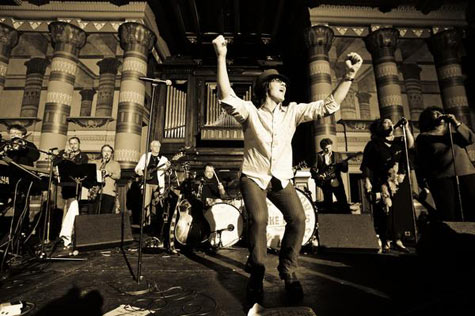 [2022]
Jan. | Feb. | March | April | May | June | July | Aug. | Sept. | Oct. | Nov. | Dec.
[2021]
Jan. | Feb. | March | April | May | June | July | Aug. | Sept. | Oct. | Nov. | Dec.
[2001 - 2022]
Visit our complete MUSIC NEWS ARCHIVE