- PROVIDENT'S FRIDAY BUZZ -
FOR THE WEEK ENDING FEBRUARY 8, 2008
LEELAND VISITS KLOVE, FOCUS ON THE FAMILY

FIREFLIGHT SOARS TO NO. 1 ON CHRISTIAN ROCK RADIO

BRANDON HEATH CLIMBS AC-INDICATOR CHART

CASTING CROWNS KICKS OFF SPRING TOUR

PILLAR WALKS GRAMMY RED CARPET

GOSPEL MUSIC CHANNEL HIGHLIGHTS MAKING OF NEW FIREFLIGHT AND LEELAND MUSIC VIDEOS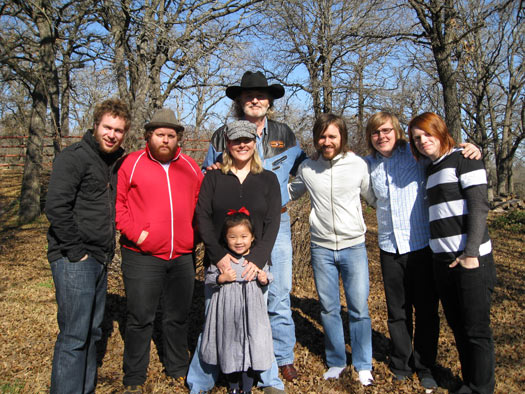 Photo Caption: Leeland, pictured with Jon, Sherry and Lexi Rivers, during the GRAMMY- nominated band's recent in-studio interview and performance on KLOVE's morning show.
NEWS SOURCE: Provident Label Group
February 8, 2008
Leeland Visits KLOVE, Focus on the Family: GRAMMY-nominated, progressive rock band Leeland spent Thursday (2/7) morning at Jon and Sherry Rivers' ranch, where the guys were in-studio guests for KLOVE's morning show. The band performed the following songs while in the studio: "Count Me In," "Opposite Way," "Yes You Have" and "Carried to the Table." Additionally, during Leeland's recent tour-date in Colorado Springs, Colo., the band stopped in to the Focus on the Family Campus for interviews and to visit with staff. Leeland's new album, Opposite Way, will be in stores February 26.
Fireflight Soars to No. 1 on Christian Rock Radio: After seven weeks on the charts, Fireflight's hit single "Unbreakable" reaches No. 1 on Rock Radio. Fireflight's highly anticipated sophomore album Unbreakable will release March 4.
Brandon Heath Climbs AC-Indicator Chart: Brandon Heath's third single "Don't Get Comfortable" climbs two spots to No. 10 on AC-Indicator this week. Heath sits comfortably at No. 11 on AC-Monitored reaching more than 1.5 million listeners. "Don't Get Comfortable" is the title track off Heath's 2006 debut album, which delivered the No. 1 mega-hit "I'm Not Who I Was," and the 2007 Dove-nominated, Top 5 radio hit, "Our God Reigns."
Casting Crowns kicks off Spring Tour- Casting Crowns is on the road this week for The Altar and The Door spring tour. The tour kicked off in Oklahoma City and then continued in Abilene, Texas; Fort Worth, Texas; Colorado Springs, Colo.; Wichita Falls, Kan.; and Tulsa, Okla., following up the fall leg which sold more than 200,000 tickets with 20 sold out shows over 36 tour dates. Upon touring all week, Casting Crowns will walk the red carpet for the 50th Annual GRAMMY Awards Sunday evening. Casting Crowns is nominated for 3 GRAMMY Awards for Best Gospel Song and Best Gospel Performance for hit song "East to West," and Best Pop Gospel Album for The Altar and The Door.
Pillar Walks GRAMMY Red Carpet: GRAMMY-nominated, rock band Pillar will be in the middle of "music's biggest night," this Sunday in Los Angeles, as the band walks the red carpet at the 50th Annual GRAMMY Awards. Pillar is nominated in the category Best Rock or Rap Gospel Album for its album, The Reckoning. Pillar's highly-anticipated, fifth album, For the Love of the Game, will be in stores February 26. On February 22, Pillar's ninth, headlining tour kicks off in Chicago (Palos Heights), Ill. The full tour line-up is: Pillar, Building 429, Wavorly and introducing Brooke Barrettsmith. For a complete schedule, visit www.pillartour.com.
Gospel Music Channel highlights making-of new Fireflight and Leeland music videos: A news-piece is currently airing on Gospel Music Channel that highlights the making-of brand-new music videos from both Fireflight ("Unbreakable") and Leeland ("Count Me In"). The preview piece will continue running throughout the next week on Gospel Music Channel, and can be viewed at: http://www.gospelmusicchannel.com/videos/exclusive.
# # #