COMPASSIONART SONGWRITERS WRAP WEEK OF RECORDING SONGS AT ABBEY ROAD
13 Songs Recorded So Far To Benefit The World's Poorest Of The Poor
NEWS SOURCE: Hoganson Media
February 29, 2008

(Littlehampton, England) February 29, 2008 – Compassionart hosted several internationally recognized songwriters last week at the famous Abbey Road Studios in London, England to record songs written collectively at a retreat in January to benefit the poorest of the poor. Joining the recording were songwriters Paul Baloche, Stu G (Delirious?), Israel Houghton, Graham Kendrick, Matt Redman, Martin Smith (Delirious?), Michael W. Smith and Chris Tomlin, as well as acclaimed drummer Dan Needham (Amy Grant, Vanessa Williams, Michael McDonald), GRAMMY winning bassist Tommy Sims (Bruce Springsteen, Garth Brooks, Kelly Clarkson, James Morrison), and guitarist/keyboardist Akil Thompson (Mandisa, Natalie Grant, Nicole C. Mullen). Engineering the sessions at Abbey Road were Sam Gibson (Pearl Jam, Natalie Imbruglia, Hillsongs United, Crowded House), Danny Duncan (Bruce Springsteen, Usher) and Josiah Bell (Vickie Winans, Smokie Norful). The resulting music will be heard in a Compassionart studio album being planned for a late fall release.
"Wow, we're in 'The Beatles' room. We had four songs to track today and we've done it!" remarks Compassionart founder and Delirious? frontman Martin Smith on the last day at Abbey Road Studios. "It was an amazing week, I'll never forget it. No egos, no arguments. There was definitely a united feeling; a real sense of love for what is being accomplished."
"A deep camaraderie has developed between us as we are joining our energies to serve the Kingdom of God through this unique project," confirms Baloche. "Please pray that our efforts will be multiplied many times in the months and years to come."
Compassionart, a charity based in Littlehampton, England and dedicated to seeing works of art generate income for the poorest of the poor, hosted an unprecedented gathering of award winning songwriters in Scotland, UK Jan 7 – 11, including the aforementioned songwriters and Steven Curtis Chapman, Tim Hughes, Andy Park and Darlene Zschech. Working together toward a common goal involving no personal gain, the songwriters set out to write 10-12 songs and, by the end of the retreat, had completed 22 new songs.
Of these 22 songs, 13 songs have been recorded to date, 12 from last week's studio sessions at Abbey Road, plus the song "So Great" that was recorded earlier by Michael W. Smith and Israel Houghton for an April release on the popular WOW Hits 1 brand. Future Compassionart recording sessions are being planned now.
Together the Compassionart songwriters account for at least 42 million albums sold, 82 No. 1 songs, 10 GRAMMY Awards, 110 Dove Awards, two Stellar Awards, two American Music Awards, and 98 current CCLI Top 500 songs sung by millions in churches around the world.
In addition to the songwriters, the publishers, managers, copyright institutes and agents involved have all waived their rights and are donating their efforts on this project to Compassionart. The songs are to be given through Compassionart to the world not just to sing, but also to raise money for the relief of suffering around the planet. One half of the monies received over the songs' lifetimes will go to the songwriters' charity of choice, and the other 50% will go to a charitable project agreed upon by all the songwriters involved.
For more information on Compassionart, go to http://compassionart.co.uk/.
# # #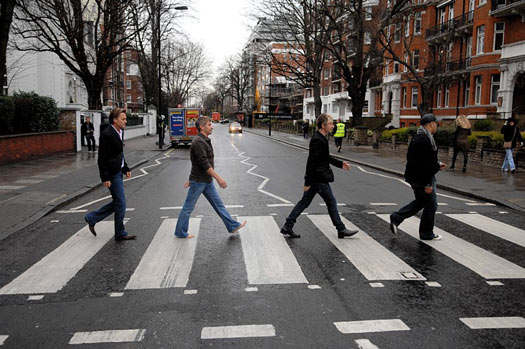 CAPTION: Compassionart songwriters are pictured (l-r) walking across Abbey Road: Michael, Paul, Martin and Israel.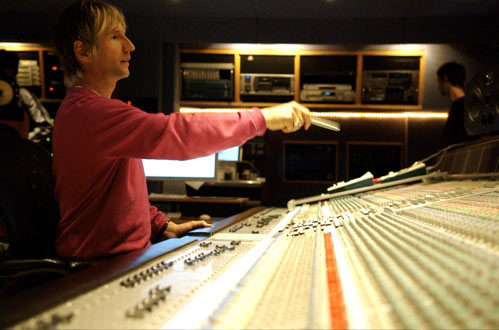 CAPTION: Martin Smith directs from the control room soundboard at Abbey Road Studios.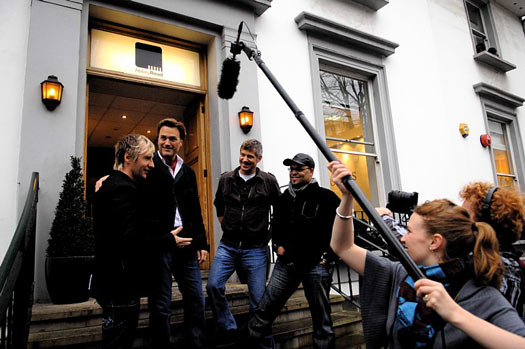 CAPTION: Compassionart songwriters complete an interview for the cameras at the Abbey Road Studio entrance. Pictured (l-r) are: Martin Smith, Michael W. Smith, Paul Baloche and Israel Houghton.