BRANDON HEATH'S BENEFIT SHOW RAISES NEARLY $20,000
FOR TENNESSEE TORNADO VICTIMS
Nashville Concert Featured Performances by Brandon Heath, Bebo Norman,
Jason Ingram, Christy Nockels and Special Appearance by Michael W. Smith
NEWS SOURCE: Turning Point PR
March 3, 2008

Nashville, Tenn. March 3, 2008 – Last night, acclaimed singer/songwriter Brandon Heath assembled Nashville's Christian music community for a free concert benefitting their neighbors in Macon County, Tenn., hit hard by a tornado on Feb. 5. The local event raised $18,690 and committed 85 volunteers to join in the clean-up efforts and help rebuild the storm-torn area.
Held at Fellowship Bible church, Heath invited fellow artist-friends to a songwriters-in-the-round show featuring intimate performances by Bebo Norman, Christy Nockels, formerly part of husband/wife duo "Watermark," and SESAC's Songwriter of the Year Jason Ingram. Plus, Michael W. Smith made a surprise appearance and performed several songs to close out the night.
"I am blown away by the response of the community," Heath said. "It was great to have my friends there on stage with me, as well as in the audience." He adds, "To see people wanting to reach out to their neighbors, not only responding financially, but wanting to give of themselves physically by signing up to go into the destruction and help rebuild was amazing!"
The concert was pulled together by Heath in less than 10 days after he visited the ravished county last week to help in the clean-up work. The devastating storms left 17 people dead and 150 homes and businesses destroyed. All the funds collected last night will go directly to the Macon County disaster relief fund administered by the Bledsoe Baptist Association.
About Brandon Heath:
Nominated for Christian music's "New Artist of the Year" and "Song of the Year" for the GMA Dove Awards in April, acclaimed singer/songwriter Brandon Heath quickly became a fixture at Christian radio with the release of his debut project, Don't Get Comfortable. His song "I'm Not Who I Was" raced to No. 1 and ended 2007 as one of the year's most played radio singles. Heath has been a respected writer in the Nashville music community for years, collaborating with well-known artists like Bebo Norman, Matt Wertz and Dave Barnes, to name a few. Heath's third single "Don't Get Comfortable" is currently a top 10 hit on Christian radio, as he readies for the late summer release of his highly-anticipated sophomore album, title yet-to-be-determined. The Nashville native first began writing at age 13 and credits the town's legendary hotspot for songwriters, the Bluebird Café, as the place he first experienced music that moved him. Heath's debut album Don't Get Comfortable has yielded two hit songs with "I'm Not Who I Was" and "Our God Reigns". Heath currently resides in Houston, Texas, and is a worship leader at The Loft church located in The Woodlands just north of Houston.
For immediate informationon Brandon Heath please visit: www.brandonheath.net or www.reunionrecords.com.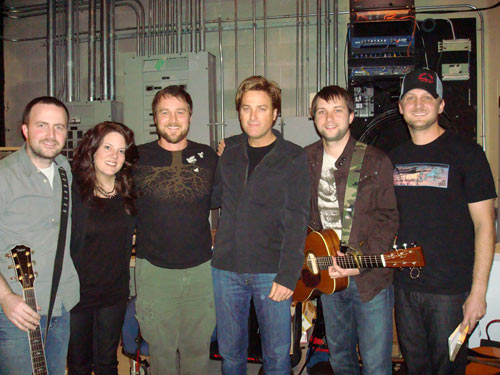 Pictured backstage at Brandon Heath's benefit show in Nashville last night are (L-R): Nathan Nockels, Christy Nockels, Bebo Norman, Michael W. Smith, Brandon Heath, and Jason Ingram.
# # #