CHONDA PIERCE IS PLATINUM!
After Four Gold Videos, the Best-Selling Comedienne Is Awarded Her First RIAA Platinum Certification
NEWS SOURCE: Hoganson Media
April 1, 2008

NASHVILLE, Tenn. (April 1, 2008) – Following four RIAA certified Gold videos, comedienne Chonda Pierce crosses the 100,000 units sold threshold with her 1998 Word Entertainment (Myrrh) debut, Havin' a Girls' Night Out, marking her first RIAA certified Platinum-selling DVD.
Recorded live at First Church of Christ in Burlington, KY, the DVD was produced by Chonda Pierce and directed by two-time Emmy Award winner Stan Moore. Drawing on her Southern upbringing, Pierce sings songs and tells stories on the DVD that are woven with down-home humor and messages of faith. It includes the segments, "Men & Duct Tape," "Mother Cracks Me Up!," "A Mother's Prayer," "Take My Life, Please!," "You In Me," "I'll Tell The World," and the title cut, "A Girl's Nite Out." The DVD captures hilarity, inspiration, music and comedy for women of all ages and in all walks of life.
In addition to Havin' a Girls' Night Out, Chonda has received RIAA Gold certifications for Chonda Pierce…On Her Soapbox (1999), Be Afraid, Be Very Afraid (2002) and Have I Got A Story For You (2003).
One of the nation's best loved comediennes, Chonda continues to make audiences nationwide laugh out loud as she continues to tour the country in support of her successful new DVD, Stayin' Alive…Laughing! On the new DVD, Chonda dances her way through topics from the empty nest to group therapy, from two steppin' to twelve-stepping; and shows audiences a side of Adam and Eve never seen before. Released in November by No Whining Records and distributed by Provident/Sony/BMG, Stayin' Alive…Laughing! features more of what Pierce's audiences have come to know and love – sidesplitting humor and hilarious real-life stories delivered with her own signature, off-kilter wit and style.
Chonda has delighted audiences of well over two million nationwide with a regular schedule of 90-plus tour dates per year. She has penned eight books and garnered numerous covers and features in such respected publications as Southern Living, Today's Christian Woman, Dallas Morning News, etc. Pierce has also made special guest appearances on virtually every major Christian talk show, including The 700 Club, Life Today and more. She's worked with Billy Graham, wowed the Grand Ole Opry and has received honors as the 2000 and 2001 Gospel Music Association's Grady Nutt Humor Award recipient. Chonda has appeared more often than any other special guest for the nationally acclaimed conference, Women of Faith. In addition to writing and recording, Pierce has joined fellow comedians Mark Lowry, Ken Davis and Dan Rupple (Isaac Airfreight) to form the Christian Comedy Association.
For more information on Chonda Pierce, including her current itinerary and video clips, visit www.chonda.org.
###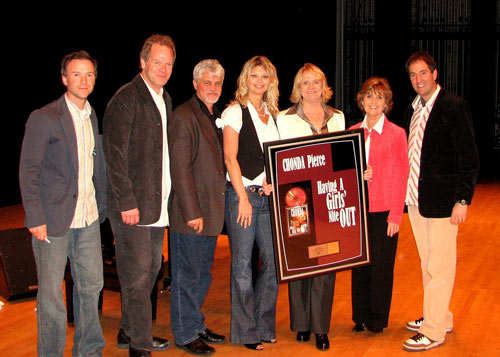 Chonda Pierce receives a plaque commemorating her RIAA Certified Platinum DVD award on the Victory Theatre stage in Evansville, IN. Pictured (l-r) are: Matthew Kroeker, Second Row, Inc. – Booking Agent; Dan Posthuma, Former A&R Myrrh/Word Entertainment; David Pierce; Michelle Mitchell, EzLu Entertainment Group – Manager; Chonda Pierce; Doris Courtney, Pianist; and Rick Altizer, Fuseic Marketing.