TENTH AVENUE NORTH SHOOTS VIDEO FOR HIT SONG "LOVE IS HERE"
Band Readies for the May 20 Release of its Debut Over and Underneath While "Love Is Here"
Continues to Climb Radio Charts with Six New Adds This Week
NEWS SOURCE: Provident Label Group
April 3, 2008

Nashville, Tenn. (April 3, 2008) — Tenth Avenue North wrapped its first music video this week for the hit radio single, "Love is Here." The band, together with Erwin Brothers Motion Pictures, shot the piece in downtown Birmingham, Alabama, on the roof of the historic Tutwiler Hotel. A premiere date will be announced once the video is finalized.
Mike Donehey, the band's lead vocalist, was enthusiastic about the process. "We all felt a little odd at first, but after getting to see some of the clips on site, we were blown away by the result. It was a long day but we really had a lot of fun."
In addition, "Love Is Here" continues to climb radio charts with six new adds this week; five of which are AC Monitored, including WVFJ in Atlanta. Currently, "Love is Here" is No. 14 on R&R's AC Monitored chart, No. 14 on R&R's AC Indicator chart and No. 15 on R&R's CHR chart.
Tenth Avenue North will continue its busy road schedule, performing dates leading up to its May 20 release of Over and Underneath, including opening slots for MercyMe and The David Crowder Band, followed by a busy run of summer festivals.
Tenth Avenue North, Mike Donehey (lead vocalist/acoustic guitar), Jason Jamison (drummer), Jeff Owen (electric guitar/background vocals) and Scott Sanders (bass guitar), have been featuring its brand of intellectual melodic pop-rock on its 21-city promotional tour in support of "Love Is Here" as well as its upcoming album project Over and Underneath. "Simply, our mission as a band is to know Christ and to make him known," says Donehey. "It's a grand adventure."
With one listen to the music of Tenth Avenue North, it becomes obvious that songwriter Mike Donehey and his bandmates have a gift for expressing truth in a way that simultaneously educates, enlightens and entertains. They are as much teachers, as artists, demonstrating this through their intellectual, yet vulnerably accessible songs that echo the heart of the human condition and the hope of the risen Savior. Discover more about this up-and-coming band at www.tenthavenuenorth.com.
For up-to-date information on Tenth Avenue North, including tour itinerary, please visit: www.tenthavenuenorth.com, www.myspace.com/tenthavenuenorth.com, or www.reunionrecords.com.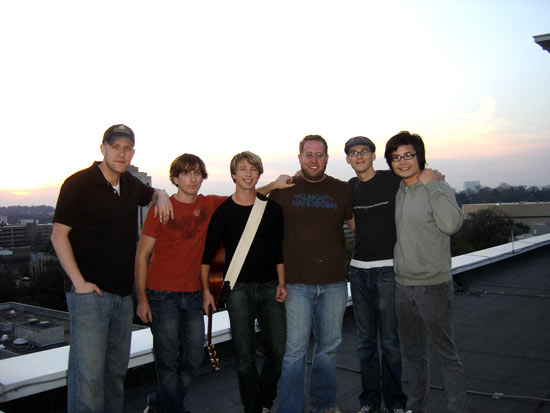 Photo Caption: Tenth Avenue North and The Erwin Brothers break for a photo while shooting the video to the band's hit song, "Love Is Here." The clip was shot on location in Birmingham, Alabama. Tenth Avenue North's debut album, Over and Underneath, releases on May 20. Pictured (L-R) are: Jon Erwin, Scott Sanders, Mike Donehey, Andy Erwin, Jason Jamison and Jeff Owen.
###