KOCH RECORDS BAND, THE MYRIAD, SECURES #1 SPOT ON MTV, WITH NEW VIDEO, "A CLEAN SHOT"
#1 VIDEO HITS TOP OF MTV CHARTS, PRECEEDING MAY 13 RECORD RELEASE OF WITH ARROWS WITH POISE
NEWS SOURCE: L.A.B Media
May 7, 2008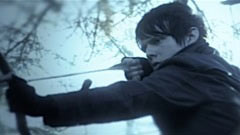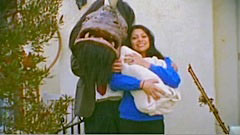 (Scenes from current The Myriad video "A Clean Shot")
(May 7, 2008) - A week before the release of their new project, With Arrows, With Poise, slated to release on Koch Records on Tues., May 13, The Myriad hit the top of the MTV video charts, becoming the #1 most played video on MTV and also secured the #4 music video chart position on M2 with "A Clean Shot."
"We are surprised and humbled by just how much MTV has gotten behind our music," states Steven Tracy, guitarist for The Myriad. "Working with them has been an amazing experience, and we are so thankful for the support they have given us."
They say that every living creature has a soul, even the most hideous monsters. The beast that's terrorizing a forest of nice lil' creatures in this strange and surprising adventure clip not only has a soul, but flashbacks reveal a whole human-style life, complete with a wife, a job, a baby and all the others entrapments of society. That doesn't sway The Myriad http://www.themyriad.net/ , however. They show the same tenacious drive that got them 2007 MTV2 Dew Circuit Breakout http://dewcircuitbreakout.mtv2.com/artist/default.aspx?artist=200 band competition. They get "A Clean Shot" on their prey and they take it.
Watch "A Clean Shot" via YouTube http://www.youtube.com/watch?v=aieNBMvbCV4 or Quicktime http://winchandpulley.com/index.php?page=Myriad, plus a "making of" at YouTube http://www.youtube.com/watch?v=l5oeftlsRjM
The Myriad "A Clean Shot" (KOCH Records)
Josh Forbes, director | Justin Benoliel, producer | Winch + Pulley, production co | Lanette Phillips Management, rep | Steven Drypolcher, DP | Ryan Bartley, editor | Ghost Town Media, post | Romaire Studios, puppet
The Myriad is made up of Jeremy Edwardson, John Roger Schofield, Steven Tracy, Jonathan Young and Randy Miller.
The band's MTV homepage is available at http://www.mtv.com/music/artist/myriad__2_/artist.jhtml#bio
For More Information on The Myriad visit:
www.themyriad.net
www.myspace.com/themyriad

Upcoming tour dates with Eisley:
May 7 – Boulder, CO
May 8 – Salt Lake City, UT
May 9 – Boise, ID
May 10 – Portland, OR
May 11 – Seattle, WA
May 13 – Sacramento, CA
May 14 – San Francisco, CA
May 15 – Los Angeles, CA
May 16 – San Diego, CA
May 17 – Pomona, CA
May 18 – Tempe, AZ
May 19 – Tuscon, AZ
May 21 – Corpus Christi, TX
May 22 – Dallas, TX
May 24 – San Antonio, TX
Upcoming summer festival appearances:
May 25 – Spirit West Coast, Del Mar, CA
June 28 – Creation, Shirleysburg, PA
July 2 – Cornerstone, Bushnell, IL
July 10 – Lifefest, Oshkosh, WI
July 26 – Creation West, Quincy, WA
Aug 1 – Spirit West Coast, Monterey, CA
Aug 8 – Tomfest, Camas, WA
Aug 30 – Revelation Generation, Frenchtown, NY
###

[2021]
Jan. | Feb. | March | April | May | June | July | Aug. | Sept. | Oct. | Nov. | Dec.
[2020]
Jan. | Feb. | March | April | May | June | July | Aug. | Sept. | Oct. | Nov. | Dec.
[2001 - 2020]
Visit our complete MUSIC NEWS ARCHIVE