CENTRICITY ARTISTS IMPACTING AUDIENCES LIVE AND ON DVD

FEATURED ON "PARTY OF FIVE" SEASON 3 RELEASE
Label Artists Enjoy Springtime on the Road
NEWS SOURCE: Bozeman Media
May 9, 2008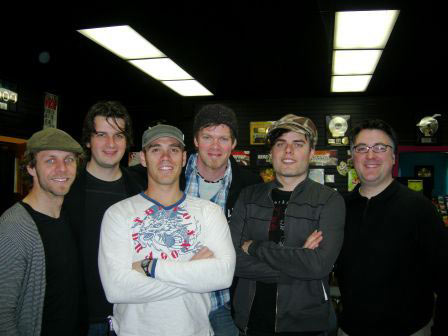 Photo (left to right)
: Glenn Lavender, downhere; Jason Germaine, downhere; Jeremy Thiessen, downhere; Jason Gray, Marc Martel, downhere; Gunnar Simonsen, Christian Supply Bookstore
(NASHVILLE, Tenn.) May 9, 2008 – Centricity Music has announced that five songs from three of their artists are featured on the "Party of Five: The Complete Third Season" five-disc DVD set. Circleslide's "Next Best Thing" and "Little Bird," "The Invitation" and "I Can't Lose Forever" by downhere and newcomer Lanae Hale's "Alive Again" are included in five different episodes of the 25-episode season. Hale's song in particular was a specific selection of the producers and the studio (Sony), chosen over songs like Joan Armatrading's "A Woman in Love" for use in its particular scene.
"The artists of Centricity are truly making an impact," says Steve Ford, Centricity Vice President, Sales and Marketing. "The selection of Circleslide, downhere and Lanae Hale to partner with the Party of Five release is evidence of these artists' ability to create music that is relevant to today's music lover."
Centricity artists have been busy this spring, hitting cities big and small nationwide. Modern rockers downhere and singer/songwriter Jason Gray joined Shawn McDonald on tour and are currently finishing up a string of West Coast dates. The artists also took the opportunity to visit and perform at breakfasts and devotionals for various retail and radio outlets including Northwestern Bookstores and KTIS in Minneapolis, and Christian Supply and Salem's KFIS/The Fish in Portland. The Portland breakfast also included a guest from the Luis Palau Organization and Tom Festival. Along the way, downhere also began the process of songwriting and recording for a new CD due out September 30.
Jaime Jamgochian and Daniel Kirkley teamed up for tour dates entitled "The Moments of Worship." Both artists have been sharing worship songs from their current projects and leading congregations in evenings of corporate worship. Visiting churches along the eastern coast of the U.S., Jamgochian and Kirkley will make stops in Lancaster, S.C. on May 16, Statesville, N.C. on May 18 and Boone, N.C. on May 23.For more information on "The Moments of Worship" tour, visit www.momentsofworship.com.
For more updates on Centricity Music and its roster of artists please visit www.centricitymusic.com.
Centricity Music is an independent recording and publishing company based in Bellevue, Washington and Nashville, Tennessee. The company's mission is to nurture the gifts and expand the influence of Christian artists around the world. Centricity Record's artist roster includes Jaime Jamgochian, downhere, Circleslide, Jason Gray, Daniel Kirkley, Lanae Hale, and High Valley.
###

[2020]
Jan. | Feb. | March | April | May | June | July | Aug. | Sept. | Oct. | Nov. | Dec.
[2019]
Jan. | Feb. | March | April | May | June | July | Aug. | Sept. | Oct. | Nov. | Dec.
[2001 - 2018]
Visit our complete MUSIC NEWS ARCHIVE