SWITCHFOOT SONGS PERMEATE NETWORK TV
Band Performs "This Is Home" On The Tonight Show With Jay Leno; American Idol® Finalist David Cook Performs Switchfoot's "Dare You To Move"

---------------------

Radio Stations Nationally Continue Adding "This Is Home" to Rotation as The Chronicles of Narnia: Prince Caspian Movie, Soundtrack Launch to No. 1
NEWS SOURCE: Hoganson Media
May 19, 2008

Nashville, Tenn., May 19, 2008 – The multi-Platinum selling rock band Switchfoot was not only featured performing its new song, "This Is Home," on NBC's The Tonight Show with Jay Leno last week, but the band's song, "Dare You To Move," was sung Tuesday by American Idol® finalist David Cook on the highly rated FOX program.
"This Is Home" was written and recorded by Switchfoot for the Walt Disney Studios and Walden Media theatrical release, The Chronicles of Narnia: Prince Caspian, which released Friday and became the No. 1 movie at the box office over the weekend. The song is heard over the end title credits of the film, and appears on the Original Walt Disney Records Soundtrack CD, the current No. 1-selling soundtrack at iTunes.
"Dare You To Move" is from Switchfoot's RIAA certified double-Platinum recording, The Beautiful Letdown, and was a top-five single at both pop and alternative radio, as well as was named one of the Top 50 Most Performed Songs of 2005 by ASCAP. David Cook's performance of the song, as well as Switchfoot's "This Is Home" concept video, can be seen at www.switchfoot.com.
"This Is Home" is also gaining momentum at radio, with numerous stations adding the song last week to rotation in cities like Detroit, Tulsa, Knoxville, San Luis Obispo and many others coast-to-coast. The song is already in rotation in cities like Chicago, Nashville, New Orleans, Jacksonville and Toledo, and is being played on Radio Disney, Air 1 Radio Network and more.
With over 5 million records sold, three albums in the Billboard Top 20, two top-five singles at both pop and alternative radio, performances on all the major late night talk shows, and a Les Paul Horizon Award, Switchfoot is recognized as one of the hardest touring bands in rock. The San Diego-based band has sold well over three million concert tickets worldwide since the 2003 release of its double-Platinum breakthrough album The Beautiful Letdown. This summer Switchfoot will be performing at festivals nationwide followed by the "Music Builds" tour that hits major markets across the country beginning Aug. 21 in Detroit, MI. The "Music Builds" tour benefits Habitat for Humanity and also features Third Day, Robert Randolph & the Family Band and Jars of Clay. Tickets are on sale through www.LiveNation.com.
Oh! Gravity., Switchfoot's newest studio album, debuted at No. 1 on the iTunes Top Albums chart and has received stellar reviews, with Billboard magazine calling it "the best of the San Diego group's nearly 10-year recording career." Spin exclaims this album is "their liveliest record, full of dive-bombing guitar fuzz, juicy arena-alt choruses." "This is an outstanding record in every sense," raved Associated Press. MTV's "Life of Ryan" tapped the album's title track for its theme song as the album showcases a harder rock direction for Switchfoot.
With an ever-growing fan base, Switchfoot has also been actively involved in a number of humanitarian causes since its inception, including DATA, Bono's THE ONE Campaign, Invisible Children and Habitat for Humanity. The band further founded the Switchfoot Bro-Am, a surfing and music benefit-event, and the online magazine, lowercase people (www.lowercasepeople.com), a daring new endeavor to revolutionize the way beauty, truth and humanity is viewed.
More information about Switchfoot and its touring can be found at www.switchfoot.com.
# # #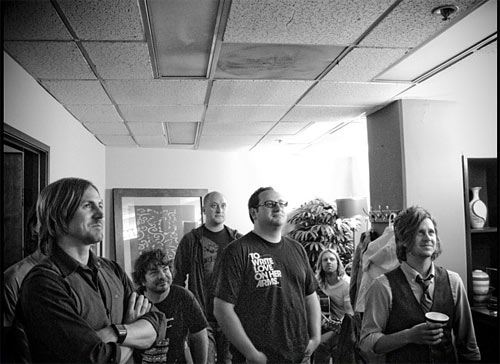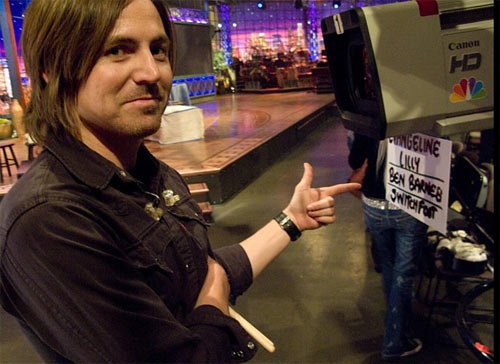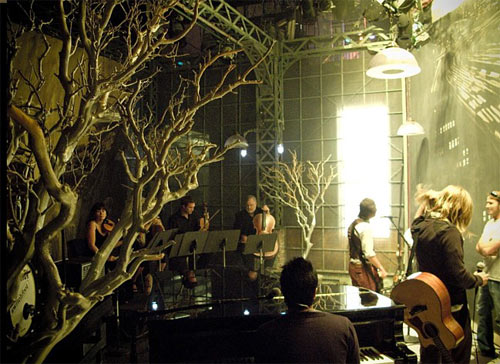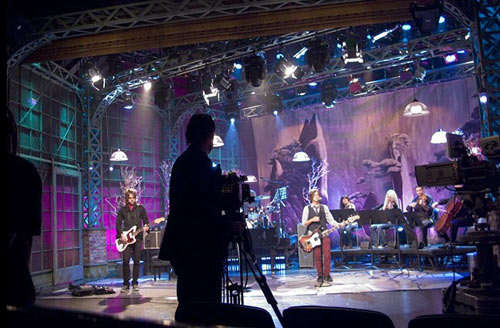 Switchfoot behind-the-scenes images from the set of The Tonight Show with Jay Leno. (Photos by Andy Barron)