Steven Curtis Chapman Daughter Killed Accidentally By Car In Driveway
NEWS SOURCE: The Tennessean, a Jesusfreakhideout.com report
May 21, 2008

We really hate reporting news like this. Please, please keep the Chapman family in your prayer during this immensely trying time. We just got news that one of their little adopted daughters was accidentally killed today when her brother hit her with his car. It absolutely grieves us to hear this news, so please keep this family in your prayers. Thank you. This article below is borrowed from the Tennessean... [Click here for the article link]
Chapman Daughter Struck, Killed by Car in Driveway

By KATE HOWARD and LINDA ZETTLER • Staff Writers • May 21, 2008

One of contemporary Christian music star Steven Curtis Chapman's six children was killed this afternoon when she was struck by a car said to be driven by her teenage brother in the driveway of the family's Williamson County home.

The child, Maria, age 5, was taken by LifeFlight to Vanderbilt Hospital, which confirmed the death, according to Laura McPherson, a spokeswoman for the Tennessee Highway Patrol.

She was hit by an SUV driven by her teenage brother, she said. Police did not give the driver's name.

The teen was driving a Toyota Land Cruiser down the driveway of the rural home at about 5:30 p.m. and several children were playing in the area, McPherson said. He did not see the 5-year-old in the driveway before the vehicle struck her, she said.

"It appears to be a terrible accident,'' McPherson said.

No charges are expected, she said. The accident was witnessed by two other children; the entire family was home at the time, McPherson said.

Veteran singer/songwriter Chapman and his wife Mary Beth have long been supporters of international adoption, having brought three girls from China into their family. Maria is one of their adopted daughters.

The couple is so active they formed an organization, Shaohannah's Hope, to aid families wanting to adopt.

The tragedy was announced during services at Harpeth Hills Church of Christ, which the family attends. The young girl had just graduated from the church preschool...
For the full article, please visit The Tennessean website. Again, please keep the Chapman family in your prayers at this awful time.
***Thursday AM Update*** - This press release just went out as an official release on the tragedy. This is from The M Collective...
MARIA SUE CHAPMAN, DAUGHTER OF STEVEN CURTIS CHAPMAN, DIES IN ACCIDENT AT FAMILY HOME
NASHVILLE, TN...5/21/08... At approximately 5pm on the afternoon of Thursday May 21st, Maria Sue Chapman, 5 years old and the youngest daughter to Steven and Mary Beth Chapman was struck in the driveway of the Chapman home in Franklin, TN. Maria was rushed to Vanderbilt Childrens Hospital in Nashville, transported by LifeFlight, but died of her injuries there. Maria is one of the close knit family's six children and one of their three adopted daughters.
More than five years ago, Chapman and his wife MaryBeth founded The Shaohannah's Hope Ministry after bringing their first adopted daughter, Shaohannah, home from China. The ministry's goal is to help families reduce the financial barrier of adoption, and has provided grants to over 1700 families wishing to adopt orphans from around the world. Chapman is a five-time GRAMMY ® winner and 54-time Dove Award winning artist who has sold over 10 million albums and garnered 44 No. 1 singles.
###
www.stevencurtischapman.com
www.showhope.org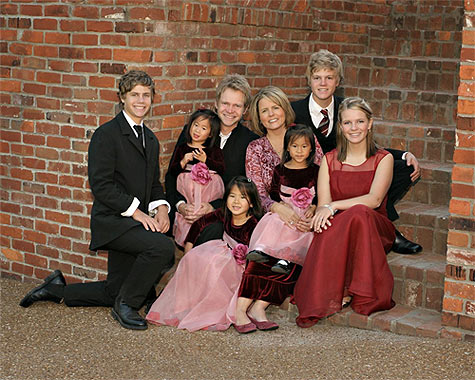 [2022]
Jan. | Feb. | March | April | May | June | July | Aug. | Sept. | Oct. | Nov. | Dec.
[2021]
Jan. | Feb. | March | April | May | June | July | Aug. | Sept. | Oct. | Nov. | Dec.
[2001 - 2021]
Visit our complete MUSIC NEWS ARCHIVE