DESTINY PRODUCTIONS IN ASSOCIATION WITH EXECUTIVE MUSIC/UNIVERSAL MUSIC CHRISTIAN GROUP PRESENTS THE NEW ALBUM BY THE KATINAS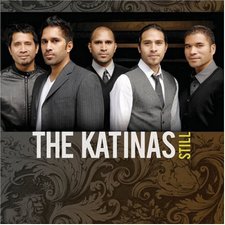 Album Titled 'Still' Releases Nationwide on August 19, 2008
NEWS SOURCE: Big Machine Media
May 29, 2008
New York, NY – (May 29, 2008) – On August 19, 2008, Destiny Productions in association with Executive Music/Universal Music Christian Group will be releasing the latest album by the popular Pop/Inspirational/Worship group The Katinas. Samoa-born brothers Sam, Joe, Jesse, John, and James—collectively known as The Katinas-recently branched off on their own after a long term stint with Gotee Records and formed Destiny Productions. From there, they have created a sound all their own that still has that unique Katinas quality, but a brand new flavor.
Joining them on their team is Executive Music/Universal Music Christian Group to not only coordinate the organization of the marketing, publicity and radio, but also to handle the distribution. The album titled Still brought together some of the top musicians/producers in the industry including Phil Keaggy, Blair Masters (Amy Grant, Stephen Curtis Chapman, Garth Brooks), Ben Phillips (Toby Mac, Natalie Grant) and others as well as producers Brian Lennox, Double Dutch, Paul David, Kene Bell, Mike Childers and The Katinas themselves. Writing or co-writing eight of the ten songs on the album, The Katinas hope to once again bring hope and joy into those that listen to their music.
The Katinas are currently touring and can be seen in the following cities leading up to their release:
JUNE 2008
06/21 SANTA ROSA, CA
06/26 COLUMBUS, TX
06/27 SAN ANTONIO, TX
06/29 ELK GROVE, CA
JULY 2008
07/04 GRAND RAPIDS, MI
07/06 FRANKLIN, TN
07/07 ESTES PARK, CO
07/13 SAN DIEGO, CA
07/27 KENT, WA
AUGUST 2008
08/01 BALTIMORE, MD (P)
08/15 ANAHEIM, CA
08/17 ANAHEIM, CA
For more information and future tour dates visit www.thekatinas.com.
###