BIG IDEA'S VEGGIETALES
CELEBRATES ITS 15TH ANNIVERSARY
WITH AN EXPANDED LICENSING & MERCHANDISING PROGRAM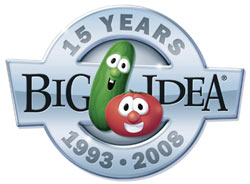 Celebration Led by a Special Limited Edition DVD Release of VeggieTales' Beloved First Title—"Where's God When I'm S-Scared?"
New Toys, Publishing Product and Live Show Roll Out This Year
NEWS SOURCE: Hoganson Media
May 29, 2008
NASHVILLE, TN (May 29, 2008) Big Idea, Inc., an Entertainment Rights group company, is celebrating VeggieTales' 15th Anniversary in 2008 with an expanded licensing and merchandising campaign. The anniversary program will be led by a commemorative DVD release of "Where's God When I'm S-Scared?," new licensed product and an all-new VeggieTales Live Show beginning to roll out to consumers this summer.
"It's an exciting time at Big Idea and we are thrilled to be kicking-off VeggieTales 15th Anniversary celebration at this year's Licensing Show," said Greg Fritz, SVP Marketing Big Idea. "Our expanded licensing and merchandising program provides us with a wonderful opportunity to bring the unique VeggieTales brand of humor, Silly Songs and life lessons to an even wider audience."
Where's God When I'm S-Scared? DVD Release
On September 23, Big Idea and Word Entertainment will release a special 15th Anniversary DVD of VeggieTales' first-ever animated video title, "Where's God When I'm S-Scared?" The DVD features two delightfully wacky adventures that help kids learn valuable lessons about handling their fears. In "Tales from the Crisper," Junior Asparagus watches a movie that's a little too scary for him and Bob and Larry arrive to sing a rollicking song teaching that God is bigger than anything he might be afraid of. The second story, "Daniel and the Lion's Den" stars Larry the Cucumber, playing the role of Daniel in ancient Babylon, who finds himself in deep trouble thanks to the King's conniving wiremen scallions. In the end, he learns that even in the lion's den, he's still in God's hands.
"God Made You Special" Live Tour
Bob, Larry and the VeggieTales crew are hitting the road again! The all-new "God Made You Special" Live Tour kicks-off this fall. The 10 week tour travels to more than 40 cities throughout the US and Canada from September—November.
Publishing
Random House will also publish two new titles this summer, "LarryBoy and the Fib from Outer Space" Little Golden Book and "Lyle the Kindly Viking" Little Golden Treasure.
Toys, Collectibles & Puzzles
New VeggieTales toys, collectibles and plush will let kids and families play with their veggies this year! Blue Box will expand its toy line with new SKUs hitting retail shelves this fall. Pint Sized Productions, a leader in collectible plush, is also expanding their VeggieTales line with an assortment of new Bob and Larry plush items debuting in October. Additionally, a variety of new puzzles from Talicor will provide hours of Veggies fun.
Holiday
VeggieTales introduces a brand new line from Dicksons. There are over 10 new Christmas items including an assortment of VeggieTales themed ornaments, stockings and snow globes sure to melt anyone's heart.
Apparel
Crossroads Apparel will roll out new toddler and youth sized The Pirates Who Don't Do Anything and Christmas-themed t-shirts this fall.
About Big Idea, Inc.
Big Idea, Inc., an Entertainment Rights group company, is the leading faith-based studio and producer of children's and family programming, characters and brands. Since 1993, Big Idea's best-selling animated series VeggieTales® has sold 52+ million videos, 13 million books. VeggieTales and Big Idea's newest property, 3-2-1 Penguins!®, are in their second season as top-rated series on NBC Saturday mornings, Telemundo and ION TV via the qubo children's programming block. The studio's two theatrical releases, Jonah-A VeggieTales Movie (2002), and Universal Pictures' and Big Idea's The Pirates Who Don't Do Anything-A VeggieTales Movie (2008), are distinguished among the top ten most successful faith-based films of all time. Big Idea also maintains an extensive presence in publishing, licensing and live entertainment arenas. For more information on Big Idea, visit: www.bigidea.com.
###

[2020]
Jan. | Feb. | March | April | May | June | July | Aug. | Sept. | Oct. | Nov. | Dec.
[2019]
Jan. | Feb. | March | April | May | June | July | Aug. | Sept. | Oct. | Nov. | Dec.
[2001 - 2018]
Visit our complete MUSIC NEWS ARCHIVE