CHRISTIAN MUSIC'S NEWEST SINGER/SONGWRITER, BRIAN BATES, GETTING STRONG SUPPORT FOR DEBUT NATIONAL CD WORLDS COLLIDE
NEWS SOURCE: Bozeman Media
June 27, 2008
(Minneapolis, MN) June 27, 2008 ---- Since releasing his national debut album on June 3rd, singer/songwriter, Brian Bates, has been receiving strong support from media and radio for his new project, Worlds Collide.
The CD was produced by industry veteran, Nate Sabin (Sara Groves, Jason Gray, Michael Olson), and features ten new songs with seven of them co-written by Bates. One of the most powerful tunes that Bates co-wrote is "Elijah" that describes a child who has become a solider that has seen and delivered many brutal killings. The song is a personal tale from Bates' trip to Sierra Leone where he encountered such a child soldier while on a trip for his charity, Mission Bo, that delivers fresh water and other supplies to the area. Although Bates didn't know the name of the youngster, he knows that God has his name and can restore all that is lost.
It's with that message of hope that Bates approaches his music ministry and it's connecting with several media outlets.
ChristianMusicToday.com - strong vocals and thoughtful production values help distinguish Bates' work from the typical AC pop artist. (4.5 out of 5 stars)
Phantom Tollbooth - There's no substitute for well-crafted melodies with excellent performances and that's exactly what I found here. There's not a bad song on the recording. (4 out of 5 stars)
CBNMusic.com – …..Brian's insight and heart will easily keep you listening. (4 out of 5 stars)
Bates has been also been featured in Christian Retailing and ccmbuzz.com and this week appeared on Family Net's Every Day with Marcus & Lisa, Atlanta Live, and did a web interview for Gospel Music Channel along with meeting their staff. While in Atlanta, Bates also did a radio visit with WWEV.
The first single from Worlds Collide is "New Day," that was co-written by Bates, Sabin, and Staci Frenes. The song is being played by over 220 radio stations across the country and has already reached #30 on the Christian Radio Weekly Inspirational chart.
For tour updates and more information on Bates please visit his website, www.brian-bates.com.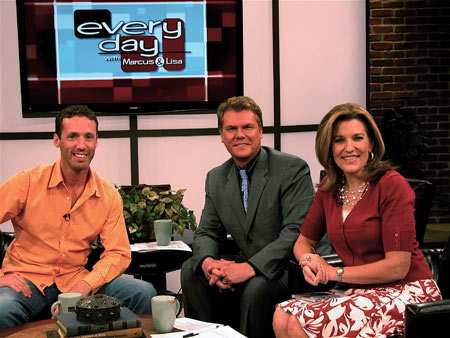 Photo (left to right): Brian Bates, Marcus Ryan, Lisa Ryan
# # #

[2019]
Jan. | Feb. | March | April | May | June | July | Aug. | Sept. | Oct. | Nov. | Dec.
[2018]
Jan. | Feb. | March | April | May | June | July | Aug. | Sept. | Oct. | Nov. | Dec.
[2001 - 2017]
Visit our complete MUSIC NEWS ARCHIVE