- PROVIDENT'S FRIDAY BUZZ -
FOR THE WEEK ENDING JUNE 27, 2008

RED'S "ALREADY OVER" MUSIC VIDEO OFFICIALLY ADDED AT MTV2

FIREFLIGHT FEATURED IN COVER STORY THIS MONTH FOR BRIO & BEYOND MAGAZINE

BROOKE BARRETTSMITH GARNERS KEY PLACEMENT AT iTUNES AND PERFORMS AT BOTH ALIVE AND ATLANTAFEST

MATT MAHER IMPACTING THE WORLD

KRYSTAL MEYERS CONTINUES TO MAKE OVER THE TOTAL AXXESS INTERN

PILLAR ROCKS IT WITH SEVENDUST IN TULSA
NEWS SOURCE: Provident Music Group
June 27, 2008
Red's "Already Over" Music Video Officially Added at MTV2: Dove Award-winning rock band Red's new music video, "Already Over," was officially added this week to MTV2's "You Rock the Deuce" program, where it will begin airing Monday, July 30. Visit MTV2.com to create your own playlist, including Red's "Already Over" video. Red's End of Silence is available now. For more information, visit www.redmusiconline.com or www.myspace.com/dropofred.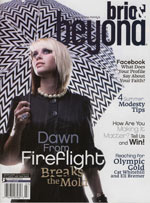 Fireflight Featured in Cover Story this Month for Brio & Beyond Magazine: Orlando's breakout rock band Fireflight is the current subject of the July issue of Focus on the Family's Brio & Beyond magazine, on stands now. Lead singer Dawn Richardson is featured on the young women's lifestyle cover (above), and talks with the magazine about her unique style and the mission of Fireflight to encourage the broken and defeated to dream again with the group's latest album Unbreakable. For more information on Fireflight, please visit www.fireflightrock.com.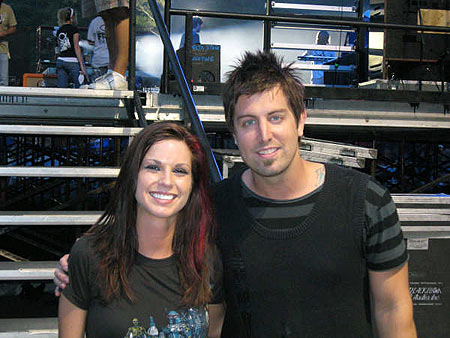 Photo Caption: Brooke Barrettsmith pictured with Jeremy Camp at the ALIVE Festival
Brooke Barrettsmith Garners Key Placement at iTunes and Performs at Both ALIVE and Atlantafest: Essential Records new pop/rock artist Brooke Barrettsmith performed at both ALIVE Festival in Canal Fulton, OH, and Atlantafest last week. The first single "Farewell" from her upcoming August 19, self-titled album was also featured this week on the iTunes main page "What's Hot" section, as well as front page positioning on the iTunes Christian & Gospel page. For more information on Brooke, please visit www.brookerocks.com.
Matt Maher Impacting the World: Essential Records recording artist Matt Maher is impacting people worldwide, from Iraq to London to Australia. First, to the Middle East, where a group of U.S. Air Force personnel currently stationed at Camp Habbaniyah, Iraq, recently got in touch with Matt to let him know how much his music means to them as they spend months and months away from their loved-ones. Matt spent last weekend in the Rocky Mountains, where he led worship at Breakaway's Father/Son Adventure retreat. On Wednesday, July 2, Maher will play a set at Notre Dame, in South Bend, Ind., before departing the states to London, for a show. Following his London concert, Maher will go to Australia for World Youth Day 2008, where he will perform nine times, in as many days. Maher's Empty & Beautiful is currently in stores. For more info, please visit www.mattmahermusic.com.
Krystal Meyers Continues to Make Over the Total Axxess Intern: Krystal Meyers has been working hard at making over Ryan, the Total Axxess intern. This week, she went shopping with Ryan, and there is a video to prove it. To watch, please click here. For more information on Krystal Meyers, please visit www.krystalmeyers.com.
Pillar Rocks it With Sevendust in Tulsa: GRAMMY-nominated rockers Pillar played to a full house, with platinum-selling rock band Sevendust, this past Tuesday, June 24, in Tulsa, Okla., Pillar's hometown. The show was at the famed Cain's Ballroom, a Tulsa establishment since 1924. For all upcoming Pillar tour dates, visit www.pillarmusic.com.
# # #

[2020]
Jan. | Feb. | March | April | May | June | July | Aug. | Sept. | Oct. | Nov. | Dec.
[2019]
Jan. | Feb. | March | April | May | June | July | Aug. | Sept. | Oct. | Nov. | Dec.
[2001 - 2018]
Visit our complete MUSIC NEWS ARCHIVE