SONSHINE GEARS UP FOR FUN-FILLED EVENT WITH RECORD ATTENDANCE
To Be Held July 16-19 in Willmar, MN, Festival Also Sees Increase In Group Ticket Sales And Volunteers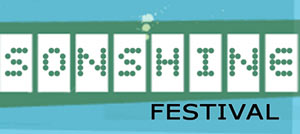 NEWS SOURCE: Springboard Entertainment
July 10, 2008
WILLMAR, MN (July 10, 2008) – Sonshine Festival, one of Christian music's premier summer events, readies for record attendance at the upcoming festivities to be held July 16th-19th at the Willmar Civic Center in Willmar, MN. In a time when gas prices are high and many events are seeing a decline in attendance, Sonshine ticket sales are up 12% from the previous record at this time, partly due to an increase in group sales. Festival staff has also seen a significant increase in volunteer applications, well above the needed amount.
"We are happy to see that, despite the rising gas prices, our ticket sales have seen record highs this year, over and above any other year in the past 26," exclaims Sonshine Festival co-director, Michael Scanland. "We are proud to offer free camping, free parking and free hot showers, as well as the added fourth night of performances. We feel that these things, combined with the promise of a great music lineup, Christian fellowship and changed lives have all contributed to the increase in ticket sales, and we hope to see more yet."
The schedule for Sonshine Festival 2008 boasts six stages of events, with popular artists such as TobyMac, Flyleaf, Newsboys, David Crowder Band, Hawk Nelson, Thousand Foot Krutch, Pillar, As I Lay Dying and John Reuben. The Wednesday night concert, new for this year, will host Jars of Clay in a free performance open to the general public. In an effort to be a family friendly event, Sonshine Festival also offers children's programming at the Big Top Stage, featuring Bob and Larry from Veggie Tales, comedy performances and arts and crafts. Older kids can visit the Sports Arena stage for some high-energy entertainment, including World Impact Wrestling and Chaos on Wheels.
Tickets for Sonshine Festival can be purchased online at www.iTickets.com at a reduced rate of $80 until July 16th. Single day passes and discounted rates for children and groups of 10 or more are also available. Tickets can be purchased at the gates as well.
For more information about the Sonshine Festival and to view the complete program and information on purchasing tickets to the event please visit www.sonshinefestival.com.
# # #
About Sonshine Festival Launched in 1982 by local Willmar, MN youth pastor, Bob Poe, Sonshine Festival has grown from 1,800 attendees in its first year to 25,000 in 2007. The Willmar Community College Campus played host to the event for the first four years and after outgrowing the venue, Sonshine relocated to the Willmar Civic Center in 1987, where it has remained for the past 22 years, in part to the construction of the Willmar High School facility next door. Throughout its 26-year history, Sonshine has featured nearly every major artist in the Christian music world and remains true to its commitment to deliver the hottest artists as well as encourage young people to become or continue to be a life-long follower of Jesus. Poe and the original steering committee are still organizing and providing leadership for the Music Festival.
Sonshine belongs to the Christian Festival Association, a membership organization representing the premier Christian Music Festivals across the country, collectively hosting more than 1.4 million attendees nationwide.