- PROVIDENT'S FRIDAY BUZZ -
FOR THE WEEK ENDING JULY 18, 2008
BRANDON HEATH HITS NO. 1 ON iTUNES

CASTING CROWNS HITS NO. 54 ON POLLSTAR'S MID YEAR REPORT OF HIGHEST GROSSING CONCERTS

PILLAR SPENDS TIME WITH PAUL BYRD OF THE CLEVELAND INDIANS

NEVERTHELESS RADIO TOUR COMING TO A CITY NEAR YOU

TENTH AVENUE NORTH, FROM SUNNY FLORIDA TO THE ROCKY MOUNTAINS
NEWS SOURCE: Provident Label Group
July 18, 2008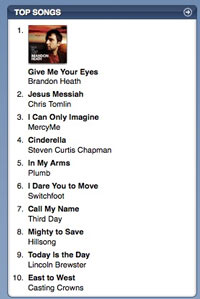 Brandon Heath Hits No. 1 on iTunes: The new single "Give Me Your Eyes" from GMA's New Artist of the Year Brandon Heath is currently the No. 1 song on iTunes Christian Top songs chart. "Give Me Your Eyes" is the debut single from Heath's highly anticipated sophomore album What If We, releasing on August 19. For more information on Heath, please visit www.brandonheath.net.

Casting Crowns Ranks Strong in Pollstar's Mid-Year Report of Highest Grossing Concerts: The phenomenal reach and impact of Christian music's top-selling artist Casting Crowns is once again illustrated this week as Pollstar magazine releases its mid-year report of the Top 100 tours in the country. Casting Crowns is the highest ranked Christian music artist at No. 54, with 6.3 million gross ticket sales in 2008, ahead of touring artists Chris Brown, George Michael, Sheryl Crow and Garth Brooks. On Aug. 19, the band's Pollstar-ranked live show will be released in 5.1 surround sound on the band's third LIVE DVD/CD release, The Altar and The Door Live. For more information, please visit www.castingcrowns.com.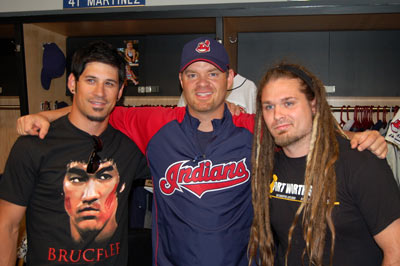 Photo Caption:
(L-R): Rob Beckley, Pillar lead singer; Paul Byrd, Cleveland Indians; Noah Henson, Pillar lead guitarist
Pillar Spends Time with Paul Byrd of the Cleveland Indians: Recently, GRAMMY-nominated rock band Pillar was able to spend time at the ballpark with Paul Byrd, starting pitcher for the Cleveland Indians. Pillar's current album, For The Love Of The Game (2/26/08), is big, fun, infectious rock and roll that further solidifies Pillar's position as fearless leaders in the Christian Rock world. For more info on Pillar, please visit www.pillarmusic.com. (pictured above, L to R: Rob Beckley, Pillar lead singer; Paul Byrd, Cleveland Indians; Noah Henson, Pillar lead guitarist).
Nevertheless Radio Tour Coming to a City Near You: Chattanooga, Tenn.-based rock quintet, Nevertheless, who will release its second album, In the Making…, on September 16, 2008, wrapped the first leg of its radio promo tour in support of its new radio single "Sleeping In" last week. However, sleeping in is the last thing the guys are doing on the trip, as they are surprising some of their radio friends around the country, by literally camping on the station grounds, then surprising the radio staff with prepared breakfast when they arrive for work. The five-member band will be surprising even more stations over the coming weeks. The band is documenting the trip. Check out videos here. For more information on Nevertheless, visit www.neverthelessmusic.com.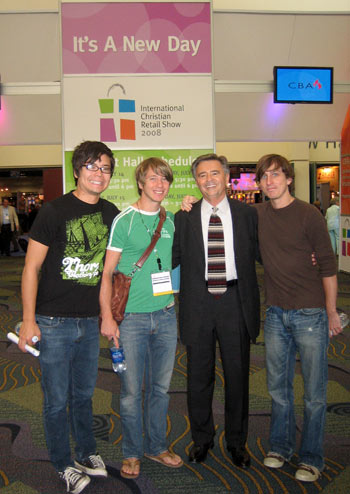 Photo Caption:
(L-R): Tenth Avenue North's Jeff Owen, Mike Donehey, CBA President Bill Anderson and Tenth Avenue North's Scott Sanders
Tenth Avenue North, from Sunny Florida to the Rocky Mountains: Tenth Avenue North spent the first part of this week in Orlando, Flor., where the band performed multiple times and participated in interviews during the annual ICRS Convention at the Orlando Convention Center. During the convention, the guys were able to spend time with CBA President, Bill Anderson (pictured above), and also interviewed with media outlets including American Family Radio and USA Radio, among others. Tenth Avenue North then departed sunny Florida and headed west to the Rocky Mountains, for a visit with their friends at Focus on the Family in Colorado Springs, Colo. While there, the band led worship and performed a few songs for the monthly chapel service, which is attended by more than 1,500 Focus on the Family employees and their families. To stay up-to-date on where Tenth Avenue North will be next, visit www.tenthavenuenorth.com.
###