World Vision Addresses Global Food Crisis Causes and Effects at EMERGENCY MEETING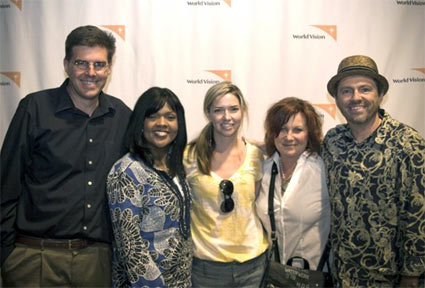 PHOTO: David Scheiman, Director of Africa Integrated Programs for World Vision US, CeCe Winans, Melissa Greene (Avalon), Margaret Becker, Pastor Jim Thomas (The Village Chapel-Nashville)
NEWS SOURCE: M Cambell & Associates
August 29, 2008
August 25, 2008 - (Nashville, Tenn.) - A packed house of artists, managers, booking agents and representatives from major Christian label groups, along with media and hundreds viewing via live stream gathered last week to address the causes and effects of the global food crisis and World Vision's immediate and ongoing response to the escalating international crisis. Recording artists and World Vision Artist Associates since the early 1990's, CeCe Winans and Margaret Becker both shared personal experiences, urging observers to action on behalf of World Vision and the millions affected daily by the global food crisis.
"Our worst day is better than their best day," said Winans, who has spent time with World Vision in Ethiopia where she witnessed World Vision food distribution programs and other community development initiatives. "We shouldn't ask whether or not we should be helping…we should ask whether or not we're excused from helping," explained Margaret Becker, who has dedicated years to World Vision and recently pledged 10% of all of the proceeds of her newly released record, AIR, to World Vision. Beginning this fall both artists will join other World Vision artists in offering their audiences the opportunity to give an additional monthly gift to World Vision's Hunger Fund when they sponsor a child.
David Scheiman, Director of Africa Integrated Programs for World Vision US, presented facts to describe the great need, explaining some of the root causes and effects of chronic hunger and malnutrition. He reminded the audience that World Vision believes the best solution to hunger is to work with families and communities to establish a stable source of food - whether through new agricultural methods, improved access to markets, or micro-enterprise loans to start businesses so they can buy food locally. This is the work that occurs daily in World Vision child sponsorship projects. Scheiman offered attendees Plumpynut and Unimix, both ready-to-use therapeutic foods distributed by World Vision to children suffering from malnutrition, noting that there is dramatically marked improvement in weight and vitality among children documented by World Vision staff in the field. Scheiman also gave the audience the solemn reminder that 14,000 children die every day or one child every seven seconds, and that the poorest people in developing countries spend up to 75 percent of their income on food, according to World Bank.
The World Vision Emergency Meeting will soon be available through www.worldvision.org.
World Vision is a Christian humanitarian organization dedicated to working with children, families and their communities worldwide to reach their full potential by tackling the causes of poverty and injustice. Motivated by faith in Jesus Christ, World Vision serves alongside the poor and oppressed as a demonstration of God's unconditional love for all people, serving all people regardless of religion, race, ethnicity or gender.
###