NEW FILM, THE IMPOSTER, FEATURING KEVIN MAX TO PREMIERE IN DALLAS IN OCTOBER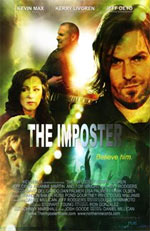 NEWS SOURCE: Dutch Management, LLC
September 3, 2008
Kevin Max (Christian music group dcTalk) is headlining the faith-based motion picture The Imposter, which will have its world-wide premiere in theaters in Dallas, Fort Worth and Houston in October. Serendipitous Films, a Texas-based production company, shot the film in Texas and is excited to start the release in the home state. The movie also stars Kerry Livgren (Kansas, Proto-Kaw), and Jeff Deyo (formerly Sonicflood). Max joins writer/director Daniel Millican whose past film credits include The Keyman, A Promise Kept (currently on Lifetime) and Striking Range (currently on Starz).
The movie will screen at The Studio Movie Grill at their Plano, Lewisville and Arlington locations in the Dallas metro area as well as their Houston theater. It will screen for five nights starting on Sunday, October 12 through Thursday October 16.
The movie joins a growing movement in the faith-based storytelling market. The major studios in recent years have created faith-based divisions to bring stories to the Christian marketplace. The movie will screen at The Studio Movie Grill in Plano, Arlington, and Dallas for the Dallas/Fort Worth metropolitan area and at Copperfield and CityCentre in Houston. It will screen Sunday through Thursdays and Saturday afternoons for two weeks.
What sets The Imposter apart from Millican's other work, though, is his interesting shift towards the Christian market, with a pointed focus on the Christian music industry. Max's character, "Johnny C" is the lead singer of a faith-based, chart-topping band, but his personal demons-drug addiction and ego-send him on a downward spiral in which he loses everything that's meaningful in his life. "It's basically the 'prodigal son' story," Max explains, "And it is one that every artist, rebel or wayward person can relate to." "I wanted to write a story that is real," states Millican. "I know that God can miraculously stretch forth His hand and fix my problems, but more often than not, He's interested in me going through a process. Not just offering some quick fix so I can go off and make the same mistakes again."
"It's about walking out what you believe, not just talking." Max adds, "The integrity level on this project is amazing. Reading about my character and what he goes through brought another jolt of love for the Creator and His grace and love for us." Millican, with his distinct vision for the film, knew Kevin Max would be the perfect person to play the role of "Johnny C." "While I was writing the script, I thought about Kevin. I thought he'd be an interesting choice," says Millican. The character's depth required someone with the acting chops of a professional, as well as an insider's knowledge of the music industry; Max brings both to the table with his Grammy winning music and his off-Broadway theatre experience.
Says Max of playing the starring role in The Imposter: "I have wanted to get involved in film for quite sometime now, but my schedule and music always took the lead. At last, I have found something that fits where I am as an artist, and a story that I can believe in."
Co-star Kerry Livgren, a key member of the rock group Kansas, wrote such classics as 'Carry On Wayward Son' and 'Dust in the Wind.' Jeff Deyo was a member of the Christian music group Sonicflood and currently tours all over the world.
The movie, set inside the Christian music industry will be very music driven. A re-recording of the famous "Carry On Wayward Son" will lead the music, which also include four songs of Kevin Max, four songs by the group Downhere, several new songs featuring Max and Jeff Deyo as well as several songs from Kerry Livgren.
###

[2020]
Jan. | Feb. | March | April | May | June | July | Aug. | Sept. | Oct. | Nov. | Dec.
[2019]
Jan. | Feb. | March | April | May | June | July | Aug. | Sept. | Oct. | Nov. | Dec.
[2001 - 2018]
Visit our complete MUSIC NEWS ARCHIVE