LOCAL MARCHING BANDS CAN BE "ONE IN A MILLION" WITH RUN KID RUN FALL CONTEST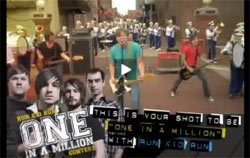 NEWS SOURCE: Overture Media
September 9, 2008
SEATTLE, WA...September 9, 2008...Kicking off their fall with a true bang, Run Kid Run is launching a contest calling all marching bands to be "One In A Million." Taking place during the debut year of the Creation Festival: The Tour, the "One In A Million" contest is a shout out for marching bands to submit their band to perform with Run Kid Run during the song "One In A Million" in their opening set.
To enter a marching band in the contest, go to Run Kid Run's homepage (www.runkidrun.net). Winners will be selected and contacted to perform at the Creation Festival: The Tour with Run Kid Run playing "One In A Million." Marching bands will be selected throughout the tour (dates located at the Creation Festival: The Tour site), and those chosen will perform the song, which is available in scored format for marching bands.
Creation Festival: The Tour is a "festival on wheels" from the creators of the Creation Festivals, which celebrated their 30th anniversary this year. The tour kicks off October 9th in Cincinnati, OH. For more information on the tour, go to www.creationfesttour.com .
After releasing their debut "This Is Who We Are" in 2006, Run Kid Run was thrilled to release their sophomore project this spring, "Love at the Core," which weaves ten exuberant pop/rock songs and the core message that a relationship with God is central to the essence of life. Showing the unique range of Love at the Core's theme, "One in a Million" effectively repeats the lyric about how life explodes, this time in relation to romantic love that honors God.
About Run Kid Run:
On its 2006 debut, Run Kid Run charted the radio hits "We've Only Just Begun" and "Sing to Me." Both tracks gained exposure in American Eagle and Hollister stores and on daytime television, and led fans to sample the band's songs nearly one million times at MySpace.
Indeed, Run Kid Run was born out of a culture where music does most of the talking. Each member came up drawing inspiration from the rich well of young alternative bands signed to Tooth & Nail Records. Neil Endicott, David Josiah Curtis, and Matt Jackson first signed to that label as Side Walk Slam. Paul Stewart joined later having played with acclaimed independent act Slingshot57.
About Creation Festivals:
Celebrating 30 years, the Creation Festival was founded in 1979 in Pennsylvania and has since grown to become the largest event of its kind, adding a second event in 1998 on the west coast, held at the Gorge Amphitheater in George, WA. In 2005, Creation branched out once again, this time internationally. Friendship Fest, held just outside the beautiful gardens and solid walls of Marrakech, the cultural capital of the Kingdom of Morocco, has been a huge success with more than 80,000 fans gathering for this truly historical event in a Muslim country. Tens of thousands of people attend the Creation Festivals from all across the United States and Canada, as well as many international countries, including Iceland, Switzerland, and France. The Festival has also been featured by many mainstream media outlets including CBS News' "Sunday Morning", VH1, CNN, FOX News, Details Magazine, The New York Times, and GQ Magazine to name a few. In April 2004, the Creation Festival was awarded the Gospel Music Association's "Lifetime Achievement Award", an honor that recognizes major contributions to the gospel music industry through a company's commitment to the Christian community for 20 or more years. The festival has been recognized twice in CCM Magazine's annual "Readers Choice Awards" as "Favorite Festival". In 2008, the 30+ city Creation Festival: The Tour was launched to allow fans across the country to experience a taste of the annual 4-day events held in June and July in one night of music, teaching and fun.
###

[2020]
Jan. | Feb. | March | April | May | June | July | Aug. | Sept. | Oct. | Nov. | Dec.
[2019]
Jan. | Feb. | March | April | May | June | July | Aug. | Sept. | Oct. | Nov. | Dec.
[2001 - 2018]
Visit our complete MUSIC NEWS ARCHIVE