BRENTWOOD BENSON MUSIC PUBLISHING SIGNS ADAM SMITH
NEWS SOURCE: Savvy Media
September 10, 2008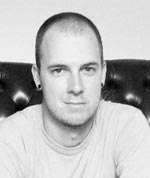 (NASHVILLE, Tenn.) Sept. 10, 2008 – Brentwood Benson Music Publishing welcomes Adam Smith to its family of songwriters. Smith is a writer that has already worked with some of Christian music's brightest up-and-comers, including Britt Nicole, Krystal Meyers, Day of Fire, Hello Kelly and Brooke Barrettsmith to name a few.
"I'm very excited about this new deal I just signed with Brentwood Benson/Universal," says Smith. "I have a great relationship with everyone there and look forward to furthering it in the years ahead. Creating music is what I love, and I'm so pleased to be a part of the team."
"Adam is exactly the kind of young writer we love to find; great songwriting sensibilities, good instincts, already honing his skills as a producer, and just as important as any of these, great work ethic, character, and attitude," says President of Brentwood Benson Music Publishing, Dale Matthews. "I believe he has unlimited potential and everyone at Brentwood-Benson is thrilled to have him join our team of talented songwriters and artists."
Smith has a string of hit radio singles already to his credit including Britt Nicole's "When She Cries" (#3 Europe, #7 CHR, #11 AC), "Believe" (Top 20 AC/CHR) and "Holiday" (#1 Europe). He also worked on Barrettsmith's "OK" and "Farewell," "Beautiful Tonight" and "Feels So Right" by Krystal Meyers, Day of Fire's "Love" and "Far and Gone," and The Rubyz' "Staring at the Sun."
Smith also produced tracks on Britt Nicole's debut Say It, Hello Kelly's self-titled debut and Krystal Meyers' current project Make Some Noise.
Originally from Cincinnati, Smith and his wife Tara now live in Nashville. In his spare time, he can be found doing stunts on his motorcycle or making music at Kr a marica Studios. He is affiliated with ASCAP, endorsed by Presonus and records using Pro-Tools. Music that Smith is currently working on can be heard at www.MySpace.com/adambsmith.
With close to 70,000 copyrights, Brentwood-Benson Music Publishing owns the world's largest Christian music publishing catalog, and the second largest evangelically styled choral music catalog. Its songs have been recorded by virtually every major artist in the Christian music industry as well as by such renowned artists as Bob Dylan, Dolly Parton, Ray Charles, Linda Ronstadt, Amy Grant, Elvis Presley and Willie Nelson, among others. In addition to developing and exploiting copyrights, the publishing group also produces and markets consumer print and choral music as well as hymnals and songbooks for the church market. Brentwood Benson Music Publishing is a Universal Music Publishing Company.
###