CHARLIE HALL'S THE BRIGHT SADNESS GARNERS ENTHUSIASTIC REVIEWS
Singer/Songwriter Prepares For October Tour

NEWS SOURCE: Savvy Media
October 2, 2008
(NASHVILLE, Tenn.) Oct. 2, 2008 – Sixstepsrecords artist and Passion worship leader Charlie Hall is enjoying enthusiastic reviews from leading Christian music publications for his fourth studio album, The Bright Sadness. Released Aug. 19, the record, which looks at life amidst sorrow, has captured the heart and attention of industry critics everywhere.
A collection of songs that reflect his current journey, "The Bright Sadness," according to Hall, "comes from me understanding my ordinary human condition and my deep love for Jesus and the life He brings. It is the accepting of my brokenness and that in the world around me while never losing sight of Christ's closeness, His free fellowship, His redemption and compassion, His Brightness."
What the critics are saying about The Bright Sadness:
"Hall is… a worship artist in every sense of the term, offering some of the most personal, progressive songs of praise to ever come from the Passion ranks." (ChristianityToday.com)

"The Bright Sadness is not worship music status quo. And that's a really good thing, for Charlie Hall has proven he is not simply a worship leader but also an artist, one in the highest caliber." (CCMMagazine.com)

"Hall has graced us with yet another fine disc of artistic, sophisticated and limitlessly creative worship via the stunning The Bright Sadness." (Christian Musician)

"This project is not just a typical worship record, it is so much more…. The songs not only offer a fresh perspective but they are deep enough to really make you think. Overall, this is an upbeat effort that deserves attention. Give it a listen." (AlMenconi.com)
Produced by band member Kendall Combes along with David Hodges (Evanescence), who also produced Hall's Flying Into Daybreak (2006), The Bright Sadness delivers the band's signature modern worship sound paired with earnest, often very personal, lyrics on songs. The album contains a number of songs that Hall and his band debuted at the Passion Regional Events and on the Passion World Tour gatherings, including "Chainbreaker," "Mystery," "Walk the World" and "You Are God."
Charlie Hall will take The Bright Sadness on the road this fall playing at universities and churches across the country. For more details on the following tour dates, visit www.charliehall.com.
10/1 Chicago, IL
10/3 Columbia, MO
10/4 Jonesboro, AR
10/5 Little Rock, AR
10/8 Newark, DE
10/9 Morgantown, WV
10/10 Athens, GA
10/11 Lynchburg, VA
10/12 Beaver Falls, PA
11/11 College Station, TX
11/13 Albuquerque, NM
11/14 Colorado Springs, CO
11/15 Boulder, CO
11/16 Oklahoma City, OK
About sixstepsrecords:
Founded in 2000 by Louie Giglio, sixstepsrecords (www.sixstepsrecords.com) is a worship label and a division of Passion Conferences. sixstepsrecords' artists include Chris Tomlin (Hello Love), David Crowder* Band (Remedy), Charlie Hall (The Bright Sadness), Matt Redman (Beautiful News), and Passion (Passion: God of This City). The label partners with Sparrow Records/EMI CMG Label Group for A&R, marketing, sales and distribution operations.
About EMI CMG Label Group:
Brentwood, Tennessee-based EMI CMG Label Group is comprised of Sparrow Records, Forefront Records, and Credential Recordings, in addition to providing A&R and marketing support for sixstepsrecords via a joint venture and licensing partnership. Balancing freedom, discipline, creativity, profitability and ministry, EMI CMG Label Group strives for excellence in artist development. The Label Group is a division of EMI Christian Music Group. For further information, please visit www.emicmg.com.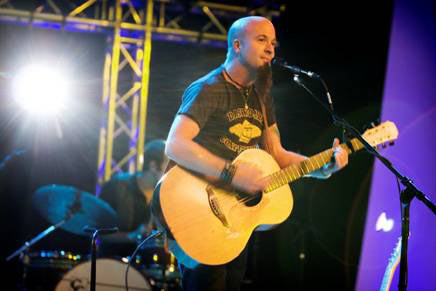 CAPTION: Charlie Hall performs songs from his current project,
The Bright Sadness
, at a CD release party in his native Oklahoma City.
###