CASTING CROWNS' THE ALTAR AND THE DOOR LIVE
IS CERTIFIED RIAA GOLD
Band's First Christmas Album Peace On Earth Has Strong
First-Week Hitting No. 1 at iTunes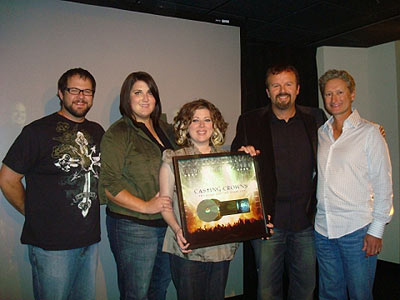 Photo Caption: Casting Crowns celebrates the RIAA Gold certification of The Altar and The Door Live DVD/CD.
Pictured (L-R): Band members Juan DeVevo, Megan Garrett, Melodee DeVevo and Mark Hall with Terry Hemmings, President and CEO of Provident Music Group.
NEWS SOURCE: Provident Label Group
(Nashville, Tenn.) Oct. 16, 2008 – GRAMMY-winning, multi-platinum artist Casting Crowns celebrates its sixth consecutive RIAA milestone today with the Gold certification of its third live DVD/CD release, The Altar and The Door Live. This project, released on Aug. 19, captures the band's monumental 2007-2008 headlining tour in 5.1 Surround Sound, which closed as one of Christian music's top-attended tours of all time with nearly 500,000 fans attending in more than 80 cities.
This certification comes on the heels of the band's fourth American Music Awards nomination, announced Tuesday, and the release of Casting Crowns' first Christmas album Peace On Earth. The new album reached No. 1 on iTunes Christian albums chart, and is currently No. 3 on iTunes overall Holiday albums chart topping new seasonal releases from Faith Hill and Elvis Presley. Peace On Earth also debuts at No. 4 on Billboard's Top Christian Albums chart, and No.1 on both SoundScan's Christian Retail chart and Christian Seasonal Overall charts, as the highest charting Christmas album of the week.
This holiday season, the band will headline the 14-city "Casting Crowns Christmas Celebration" with full orchestra and choir, Nov. 28 – Dec.14. The tour will also feature Natalie Grant, Denver & the Mile High Orchestra, Avalon, Michael English, and pureNRG.
Both of the band's previous live DVD releases Live From Atlanta (2004) and Lifesong Live (2006) have reached RIAA Platinum status, along with its 2 Platinum albums Casting Crowns (2003) and Lifesong (2005), and current Gold album The Altar and The Door (2007). For more information on Casting Crowns and for concert listings, please visit www.castingcrowns.com.
About Casting Crowns –
Casting Crowns, with lead singer Mark Hall, led the 39th Annual GMA Dove Awards with seven wins including Group of the Year for the fourth consecutive year, and Song of the Year for its No. 1 hit "East to West." The group's third studio recording The Altar and The Door achieved an historical debut at No. 2 on The Billboard 200 chart with 130,000 first-week copies sold, making it the highest debut in the country that week and the second highest CD seller of any kind in America. The album sailed to RIAA Gold status in 10 weeks, securing Casting Crowns the No.1 position on Billboard's year-end chart as the top-selling Christian music artist of 2007. The band won a GRAMMY Award in 2006, an American Music Award in 2007, and has eight consecutive No.1 songs at Christian radio.
Lead singer Mark Hall is a full-time youth pastor, serving his 17th year in youth ministry as a student pastor at Eagle's Landing First Baptist Church in Atlanta. All seven band members remain active in student ministry in the Atlanta area and tour part-time around their local church duties.
###