TooLove Inc. Invites Thousands to New Year's Bash in Music City
TobyMac drummer, B. Haley, launches inaugural
celebration with top entertainment in positive party environment

TooLove Inc. to donate event proceeds for Houston post-hurricane relief efforts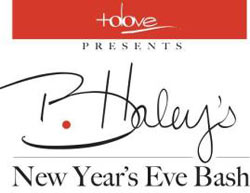 NEWS SOURCE: guiderPR
October 20, 2008
October 20, 2008 (Nashville, TN) – B. Haley, drummer for critically acclaimed TobyMac and founder of TooLove Inc., is launching the first-ever TooLove Inc. New Year's Eve Bash in Nashville.
Open to the public and being held at the Gaylord Opryland Resort & Convention Center, TooLove Inc. New Year's Eve Bash is inviting thousands throughout the U.S. to enjoy live music, entertainment, food and nonalcoholic beverages while celebrating the start of 2009 in a positive and safe environment. In addition to having the opportunity to meet celebrities from the Nashville community, attendees will also see live performances from Superchick, Ayiesha Woods, newcomer Shonlock and others.
"TooLove Inc. New Year's Eve Bash will bring thousands of Christians together to welcome 2009 in an exciting atmosphere," explains event visionary Haley. "Until now there have been a lack of options on New Year's Eve and many Christians either visit and feel uncomfortable at the alcohol fueled clubs or choose to attend the smaller events at their own churches. At the New Year's Eve Bash, everyone will have fun and nobody will be tempted to compromise their beliefs."
Already looking beyond TooLove Inc. New Year's Eve Bash's introduction in Nashville, Haley has secured three additional cities for the event in 2009, including St. Louis, Atlanta and Houston. Sponsors such as KSBJ, US Fidelis and WAY-FM have already partnered with TooLove Inc. to support this year's event while the organization continues to garner more media and corporate interest.
During the entertainment-filled evening this year, B. Haley and TooLove Inc.'s non-profit subsidiary, God's Hand, will present Houston-based KSBJ with a donation from a percentage of event proceeds to further post-hurricane relief efforts in the radio station's city. TooLove Inc. will continue the charitable gifting each year with money raised from the New Year's Bash events.
Too Love Inc. New Year's Eve Bash will begin at 9:30 pm on Dec. 31, 2008 at the Gaylord Opryland Resort & Convention Center in the Delta Ballroom. For tickets and for more information, visit www.tooloveinc.com.
A 12 year veteran in the music industry, B. Haley has shared the stage with many notable mainstream, Christian and Gospel artists, including CeCe Winans, Donnie McClurkin, TLC, Sisters With Voices, Ben Tankard, Karen Clark-Sheard and Bobby Jones, among others. Haley has been writing and performing with TobyMac for the past eight years.
Established in 2008 by B. Haley, Too Love Inc. is a nonprofit that stands on a mission to create unity in the world with one simple action: love too much. The organization calls individuals together as one through national-scale events to community outreach programs, all designed to significantly and positively impact lives.
###