CAPITAL LIGHTS DEBUTS VIDEO ON PUREVOLUME HOMEPAGE
Band Touring with Creation Festival: The Tour
Original Song Featured on New "X Christmas"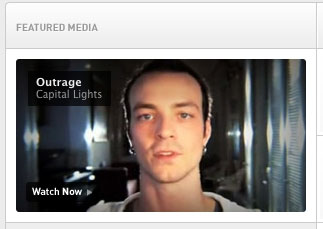 NEWS SOURCE: Overture Media
October 30, 2008
SEATTLE, WA...October 30, 2008...After a stellar debut from Tooth & Nail's Capital Lights, which charted on the Billboard Top Heatseekers chart at No. 51 as well as debuted at No. 27 on the iTunes Rock Chart, the band is back with their music video debut on Purevolume.com. The music video for "Outrage" from the band's summer debut, This Is An Outrage, is currently being featured on the homepage of the music discovery site Purevolume.com.
This strong debut CD was said to be "nearly flawless in its aim and execution," "ridiculously catchy," and an "extremely powerful debut" marking Capital Lights as "one of the more promising new bands in 2008."
The band performed across the nation this summer at festivals leading into their current touring gig with Creation Festival: The Tour, which features nine bands for a "festival on wheels." In addition to playing nationwide, Capital Lights is a part of the recently released X Christmas (BEC Recordings). The band penned the original track "His Favorite Christmas Story" for the album that released earlier this week.
Capital Lights is composed of Brett Admire (guitar), Bryson Phillips (vocals), Michael Paul Phillips (drums), and Jonathan Williams (guitar). For more information on Capital Lights, visit: www.myspace.com/capitallights.

###