NATE HUSS SPEAKS OUT IN NOVEMBER FOR "NATIONAL ADOPTION AWARENESS MONTH" WITH SPECIAL SONG, VIDEO AND PSA CAMPAIGN
Song & Video of "Your Own" Are Centerpieces of National Promotion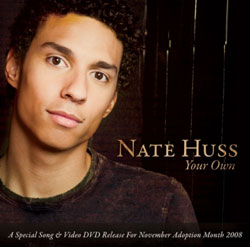 NEWS SOURCE: MorningStar PR
October 31, 2008
(Nashville, Tennessee) –October 31, 2008 – Through major national visibility with media and ministry outlets such Focus on the Family, the Gospel Music Channel, FamilyNet, JCTV, and more, Nate Huss is bringing his message and music as a compelling voice of support for November's designation as National Adoption Awareness Month.
Focus on the Family has chosen to use Nate's song, Your Own, as an addition to their November ministry campaign in support of Christian adoption.
Nate's personal media outreach leading up to and including the month of November has targeted spotlight the use of his self-written Your Own as the centerpiece of a wider major national promotion, that has included a special song and PSA mailing to radio, service of a performance video of Your Own for television, and major media interviews underscoring the "choose life" option of adoption.
Given up at birth by his biological mother, Nate has an obvious personal passion for the adoption agenda--one born out of life experience. He was only three weeks old when he was placed in the arms of his own loving adopted family—becoming the youngest of the eight lively "global kids" Dave & Sylvia Huss assembled from around the world.
Today, a handsome young man of 23, and one of the most promising new artists in contemporary Christian music, Nate is in a position to speak out as a compelling voice of experience on the importance of the adoption issue.
Your Own was written by Nate with his older brother, Dan, as a thank you to their individual birth mothers for the gift of life and the decision they made to choose adoption.
Nate noted in a recent interview:
"I'm thankful to God and to a biological mother that I never knew who chose the option of life for me," Nate noted in a recent interview. "I am a planned mistake, a blessed gift. Growing up with wonderful adopted parents and seven amazing brothers and sisters of different nationalities—I have been blessed to get to appreciate life at its' fullest."
Because of his own personal road, Nate has chosen to be an outspoken voice of support for the adoption agenda on a national level from his platform within Christian music, as well as at the one-on-one personal level of counseling with young people. He has lent his personal support to the national work of Mercy Ministries, earmarking for them a portion of royalties from his critically acclaimed debut album Here With Me released in 2007 on Slanted Records.
Nate noted recently:
"Today many young women find themselves pregnant and lost—often times, sadly with the thought that they face only two choices—either to keep or abort their child. Not only as a passionate advocate for adoption, but as a Christian, my desire is to save lives for the Kingdom of God."
Nate is hoping November will be a month of special awareness of the life-saving value of Christian adoption. "I say 'thank you' to all mothers and fathers—to those that are willing to 'choose life' and give us up to adoption, and to those that are willing to take us in," he notes.
"I am here because my mother choose life—God gave me a second chance—and I am proud to say 'I am adopted!'"
Resource Nate Huss online: http://www.natehuss.com
###