- PROVIDENT'S FRIDAY BUZZ -
FOR THE WEEK ENDING OCTOBER 31, 2008
SESAC HOSTS BENEFIT FOR AMERICAN HEART ASSOCIATION

FIREFLIGHT NOMINATED FOR THE
GOSPEL MUSIC CHANNEL VIDEO AWARDS

LEELAND MEETS DWIGHT FROM "THE OFFICE"

VOTE NOW IN THIS YEAR'S AMERICAN MUSIC AWARDS

NASHVILLE'S MUSIC ROW CELEBRATES BRANDON HEATH'S RADIO
SUCCESS AT ASCAP NO. 1 PARTY FOR "GIVE ME YOUR EYES"

MICHAEL W. SMITH RELEASES A NEW HALLELUJAH OCT. 28
NEWS SOURCE: Provident Label Group
October 31, 2008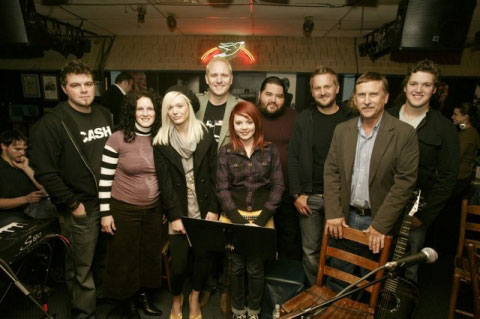 Photo caption: (L-R) Hamm, Lee, White, Meyers, Eskelin, Reeves, SESAC's Associate Vice President, Writer/Publisher Relations, Tim Fink, Ingram, SESAC's Director, Writer/Publisher Relations, John Mullins & Milby. Photo Credit: Ed Rode.
SESAC Hosts Benefit For American Heart Association: SESAC hosted an extraordinary night of music at a recent benefit for the American Heart Association at the Bluebird Café in Nashville. Entitled "SESAC Presents CCM Hitmakers @ Bluebird: A Benefit For the American Heart Association" the event showcased some of Contemporary Christian music's most exciting artists in-the-round such as Regie Hamm, Tiffany Arbuckle Lee (aka Plumb), Krystal Meyers, Ian Eskelin, Sarah Reeves, Jason Ingram and Evan Milby. The packed house was treated to songs including Krystal Meyers' "Make Some Noise" and "My Freedom."
Fireflight Nominated for the Gospel Music Channel Video Awards: Orlando-based rock band Firelight has been nominated for the Gospel Music Channel (GMC) Video Awards for its video of the No. 1 hit single "Unbreakable." To vote, please visit www.gospelmusicchannel.com/topspins. Earlier this year, Fireflight was named GMC's first ever Listen Up Artist of the Month. For more information on Fireflight, please visit www.fireflightrock.com.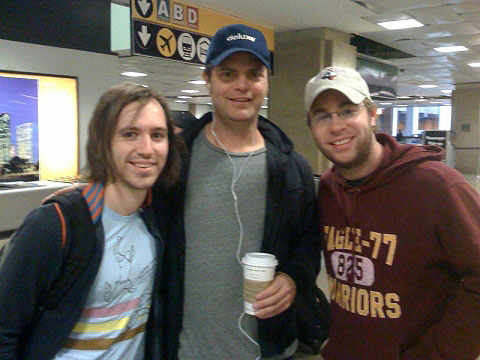 Leeland Meets Dwight From "The Office": GRAMMY-nominated, progressive rock band Leeland met Rainn Wilson, who plays Dwight Schrute in NBC's hit show "The Office" earlier this week at the Baltimore airport, as the band was heading back to Houston. Wilson chatted with the band, and took a picture with Jack Mooring and Matt Campbell (pictured above). For more information on Leeland, please visit www.leelandonline.com.
Vote Now In This Year's American Music Awards: Vote for your favorite artist to win at the 2008 American Music Awards. Voting closes November 7, at 11:59pm PT. Casting Crowns and rock band Third Day both received American Music Award (AMA) nominations for "Favorite Artist" in the Contemporary Inspirational category. Casting Crowns, who won this category at last year's show, celebrates its fourth consecutive nomination while Third Day is honored with its third career nod. The 36th Annual AMA's will air Sunday, November 23rd (8:00-11:00 p.m. ET/PT) on ABC. To vote, please click here.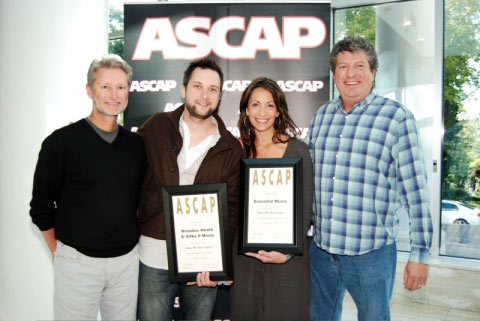 Photo caption: New Artist of the Year Brandon Heath was honored this week during an ASCAP No. 1 party for his current hit song "Give Me Your Eyes" off new album What If We. Pictured (L-R): Terry Hemmings, President and CEO of Provident Music Group, Brandon Heath, Holly Zabka, Senior Director of Publishing, Essential Music, and Dan Keen, vice president of ASCAP. Photo credit: Aaron Crisler / The Judy Nelon Group.
Nashville's Music Row Celebrates Brandon Heath's Radio Success at ASCAP No. 1 Party for "Give Me Your Eyes": Singer/songwriter and Christian music's New Artist of the Year Brandon Heath was honored on Music Row this week in his Nashville hometown with a "#1 Party" hosted by ASCAP for his smash radio hit "Give Me Your Eyes." The song is the first single off Heath's new sophomore album What If We, and tops Billboard's Hot Christian AC chart for a sixth consecutive week, while spending a tenth week at No. 1 on R&R's CHR chart. "Give Me Your Eyes is reaching 25 million in radio impressions this week, which compares to the weekly impressions of a No.1 song on both Mainstream AC and Hot AC charts, No. 6 on the Country charts and No.15 on the Top 40 chart. "Give Me Your Eyes" is also one of the most successful digital Christian tracks of 2008, currently holding the No. 1 spot on iTunes Christian chart for a 13th week. The track has sold 115,000 total downloads across all digital providers to date. For more information on Brandon Heath please visit www.brandonheath.net.
Michael W. Smith Releases A New Hallelujah Oct. 28: GRAMMY® award-winning and multi-Platinum selling artist Michael W. Smith had a busy week with the release of his 21st career album, A New Hallelujah, on Tuesday, Oct. 28. The album, recorded live in Houston on June 20 before 12,000 people, has already received acclaim from media and fans alike, and the album's first single, "A New Hallelujah" is currently in Top 15 at AC on the CRW chart and No. 17 on R & R's Christian AC Monitored chart and just surpassed the 60 million cumulative impressions mark in only 11 weeks. Smith was interviewed on Monday, Oct. 27 by radio outlets including Rick and Bubba's morning show, Moody Broadcasting's "The Morning Show with Mark Elfstrand," and "Prime Time America," USA Radio Network's "Daybreak USA," American Family Radio, AP Radio, Family Life and Focus on the Family. On Oct. 28, his official street day, he performed "A New Hallelujah" live on the KLOVE Network as well as stations in New York, Tampa, Orlando, Minneapolis and Los Angeles. In addition, he was the featured guest on Moody's "Midday Connection." For more information on Smitty please visit www.michaelwsmith.com.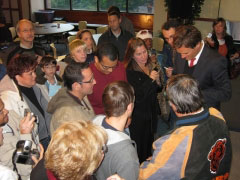 ###