SINGER/SONGWRITER RANDALL GOODGAME ADDS TO IMPRESSIVE REPERTOIRE WITH THE RELEASE OF BLUEBIRD ON NOVEMBER 4TH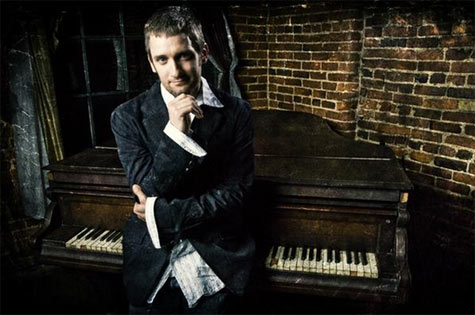 NEWS SOURCE: BookEnd Media
November 4, 2008
(NASHVILLE, TN) NOVEMBER 4, 2008 -- Best known for his songwriting collaborations with Caedmon's Call and Andrew Peterson, Randall Goodgame is slated to release Bluebird, his first solo EP in four years, on November 4th. The album will be available on iTunes, Amazon MP3, and www.randallgoodgame.com.
Produced by Quinlan (Rebecca St. James, Benjamin Gate), Goodgame has changed things up a bit for Bluebird and returned to the instrument he grew up on - the piano. "The songs I'm writing," says Goodgame, "are what happens when I'm writing on the instrument I'm most comfortable with." He soulfully pours each lyric out over his piano keys, touting listeners to engage in the irresistibly appealing melodies.
The journey from his last album, War and Peace, to today is evident in the nostalgic and bitter-sweet lyrics of songs about struggle, redemption and hope. Bluebird adds to Goodgame's impressive repertoire with a refreshing melodic twist on the music that's made him so endearing to his fans.
Goodgame has garnered acclaim as a songwriter for the folk group Caedmon's Call (INO Records). He's written fifteen songs for the group including "Only Hope," "Hand of the Potter" and "There's Only One (Holy One)." Other recent projects include The Midtown Project Vol 1, a worship album co-produced by manager Winn Elliott, and a collaboration with friend and fellow singer/songwriter Andrew Peterson on a children's album entitled Slugs, Bugs and Lullabies. Goodgame's previous solo albums include Arkadelphia (2000), The Hymnal (2002), and War and Peace (2004).
For additional information and tour dates, please visit www.randallgoodgame.com.
###