SHOWBREAD FRONTMAN JOSH DIES ANNOUNCES SOLO ACOUSTIC / BOOK READING TOUR
NEWS SOURCE: Showbread, a Jesusfreakhideout.com report
December 6, 2008
Showbread front-man Josh Dies will be hitting the road this January and February for a national tour in which he will be performing acoustic sets, speaking and reading from his written work...
The tour will also commemorate the release of the new DIES EP Talons, Josh's new children's book The Insect and the first printing of his 2006 novel The Spinal Cord Perception in over 2 years.
Tour dates have been posted at myspace.com/showbread
Shows are generally pretty cheap and Josh is working to make each date a unique experience including a mostly request acoustic set (you can request songs by emailing joshuastephenporter@yahoo.com and including your name and the show you're attending)... If the tour comes near you, please come see it.
CLICK THIS TOUR FLYER TO DOWNLOAD A PRINTABLE VERSION TO DISTRIBUTE AT YOUR LEISURE.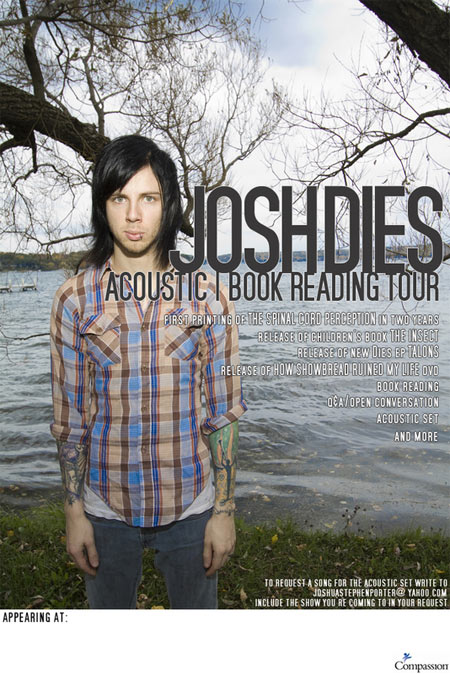 Jan 5 2009 6:00P The Gym, Conway, Arkansas
Jan 5 2009 6:00P The Inner Bean, Emporia, Kansas
Jan 7 2009 6:00P King Of Clubs, Claremore, Oklahoma
Jan 8 2009 6:00P Art Ambush, Waco, Texas
Jan 9 2009 7:00P Rock Bottom, San Antonio, Texas
Jan 10 2009 6:00P The Arena at GTAustin, Austin, Texas
Jan 11 2009 7:00P The Telos , Albuqurque, New Mexico
Jan 12 2009 6:00P Bethany Community Church, Tempe, Arizona
Jan 13 2009 6:00P Augies Coffee Shop, Redlands, California
Jan 14 2009 7:00P New Harvest, Hollister, California
Jan 15 2009 6:00P Club Retro, Orangevale, California
Jan 16 2009 6:45P The Revolution, Ashland, Oregon
Jan 17 2009 5:30P Riversdale Grange, Roseburg, Oregon
Jan 19 2009 7:00P The Viaduct, Tacoma, Washington
Jan 20 2009 7:00P Studio Seven, Seattle, Washington
Jan 21 2009 6:00P Calvary Fellowship, Mountlake Terrace, Washington
Jan 22 2009 6:00P The Empyrean, Spokane, Washington
Jan 24 2009 6:00P 3J's Coffeehouse, Johnstown, Colorado
Jan 25 2009 6:00P Crosswalk, Hawrden, Iowa
Jan 26 2009 6:00P Fellowship Bible Church, Oskaloosa, Iowa
Jan 27 2009 6:00P Mosaic Church, Wichita, Kentucky
Jan 28 2009 6:00P Broadway Books, Cape Girardeau, Missouri
Jan 29 2009 6:15P The Edge, Danville, Illinois
Jan 30 2009 7:00P The X- Northview Christian, Danville, Indiana
Jan 31 2009 6:00P Underground Cafe, South Bend, Indiana
Feb 1 2009 7:00P Mix Tape, Grand Rapids, Michigan
Feb 2 2009 6:00P The Strutt, Kalamazoo, Michigan
Feb 3 2009 6:00P Musica, Akron, Ohio
Feb 4 2009 6:00P The Wave, Patchogue, New York
Feb 5 2009 6:15P Knights Of Columbus, Annapolis, Maryland
Feb 6 2009 6:00P Jolt 180 Coffeehouse, Virginia Beach, Virginia
Feb 7 2009 6:00P Gray's, Franklinville, North Carolina
Feb 8 2009 9:30AM Encounter Church Morning Service, Greensboro, North Carolina
Feb 10 2009 5:30P Corbin Center, Corbin, Kentucky
more dates are on the way... stay tuned...
Also, the first ever Showbread DVD, How Showbread Ruined My Life, is now up for pre-order along with an all new Showbread online store only at myspace.com/showbread
###