Larnelle Harris Receives Prestigious Honor from Alma Mater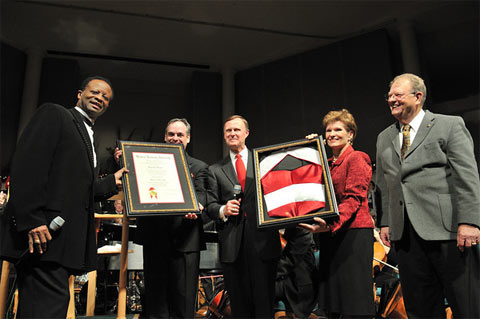 (L to R: Harris; Jeff Reed, conductor for Bowling Green Chamber Orchestra; Ransdell; Eggleton; Johnson)
NEWS SOURCE: Adams PR Service
December 9, 2008
After three decades in Christian music, 5-time Grammy Award winner and Hall of Fame artist Larnelle Harris has been awarded an Honorary Doctorate of Fine Arts degree by his alma mater Western Kentucky University. Dr. Gary Ransdell, President of Western Kentucky University, Registrar Freida Eggleton, and Jim Johnson with the University's Board of Regents presented the Doctorate to Harris following his sold-out Christmas concert in Bowling Green, Kentucky on December 8.
"I was surprised and humbled by the honor," said Harris. "It is especially overwhelming coming from my alma mater - the school from which my wife and I both graduated."
"Larnelle has had an unparalleled career of success, combining faith with music," said Ransdell. "Western Kentucky University is extraordinarily proud of his accomplishments."
Admired by peers and fans alike in a career that spans nearly forty years, Harris was one of the first Christian artists to cross racial barriers and build healing bridges with predominantly white churches who had never had a black singer on their platform. In addition to his five Grammy and eleven Dove Awards, including being named Male Vocalist of the Year three times by the gospel music community, Harris has garnered nineteen #1 national radio singles and countless top 10 hits. Songs such as "How Excellent Is Thy Name," "I Miss My Time With You," "I've Just Seen Jesus," plus many others, including his signature song, "Amen," are now considered modern gospel classics. Harris was officially inducted into the Gospel Music Hall of Fame in October 2007.
From the White House to the 38th Parallel, Larnelle has impacted audiences across the globe with his music. He was the first Christian artist to perform inside the Kremlin after the fall of the Soviet Union. He is one of a handful of celebrities to receive the Ad Council's Silver Bell Award for Distinguished Public Service in recognition of his song "Mighty Spirit" as the theme song for the longest-running Public Service Announcement in television history.
Married to wife Cynthia (a.k.a. Mitzy) for over 37 years, Larnelle has successfully combined the demanding lifestyle of a global musician with being a husband and father of two grown children. Still a sought-after vocalist for special events and ceremonies, Larnelle also continues to perform solo concerts for churches and other organizations worldwide each year.
His latest recording entitled I WANT TO BE A STAR has already garnered three top 20 national radio singles, including the hit "Look At Your Hands" which landed in the # 3 position on the Inspirational charts. Harris has appeared on several national tv shows and networks including Gaither Homecoming Specials, Live With Regis & Kathie Lee; Life Today With James Robison; CNN; Music City Tonight with Crook & Chase on TNN; 700 Club; Good Morning South Africa; Billy Graham Crusades; Hour Of Power; and Larnelle Christmas Special, among others. As one reviewer aptly stated, "Larnelle could sing the phone book and inspire you!" For further information, visit www.Larnelle.com.
Located in Bowling Green, Kentucky, Western Kentucky University was founded in 1906 and achieved University status in 1966. WKU provides students with rigorous academic programs in education, the liberal arts and sciences, business, and traditional and emerging professional programs, with emphasis at the baccalaureate level, complemented by relevant associate and graduate-level programs. As a university, Western has produced educational opportunities to more than 117,000 alumni who proudly call WKU "the home of the Hilltoppers." For more information, visit: www.wku.edu.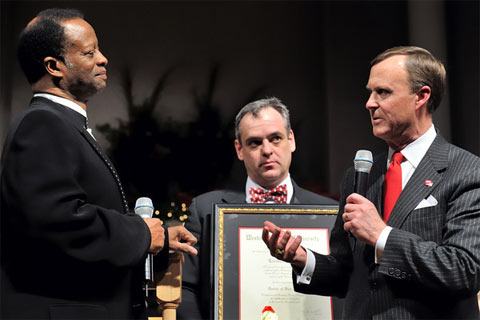 Dr. Gary Ransdell (right) of Western Kentucky University surprises Larnelle Harris with an Honorary Doctorate after his sold-out Christmas concert with the Bowling Green Chamber Orchestra on December 8.
Pictured L to R: Harris; Jeff Reed, conductor of Bowling Green Chamber Orchestra; Ransdell
###