NEWSBOYS "REACH" EVENT DRAWS CAPACITY CROWD
More Than 600 Attendees Make Faith Commitments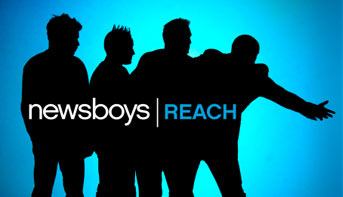 NEWS SOURCE: Savvy Media
December 12, 2008
(NASHVILLE, Tenn.) Dec. 12, 2008 –Christian music mainstay newsboys and international outreach organization Global Tribe hosted its debut REACH event last month at Tucson Electric Park in Tucson, Ariz. Drawing a capacity crowd of 15,000, more than 600 attendees responded to the Gospel message presented by newsboys frontman Peter Furler.
Concert-goers were lined up as early as 8:00 am to attend the 5:00 pm event launched in partnership with Family Life Radio, Chick-fil-a, and more than 25 local churches. Hundreds of church volunteers were also present to assist those who responded for prayer and counseling, helping them to connect with a local fellowship.
"Having 15,000 people at the REACH event was great, but the most exciting aspect was watching hundreds get out of their seats and respond to the Gospel," says Furler. "Equally gratifying was all the churches in the community coming together for one night to impact their city. This is the heart of REACH and where we hope to see our contribution in the foreseeable future."
President of Family Life Radio, Dr. Randy Carlson comments, "As a result of the effort of hundreds of volunteers and staff, REACH Tucson has set a Family Life Radio record—it's the largest event in our ministry history and fulfillment of our Community Transformation strategy."
A Global Tribe ministry, REACH was created as a means to reach out to family, friends, and neighbors through a fun evening of music and leaning about Jesus. It is designed to be a resource for local churches to impact their communities with the message of Christ at a time when young adults are leaving the church in large numbers. For information on REACH and the work of Global Tribe, visit www.globaltribe.com.
With five gold albums, sales exceeding six million units, more than 20 No.1 radio hits, and a mantle of Dove Awards as well as Grammy nominations, newsboys has achieved phenomenal success in its near two decades together. Known for its amazing live performances and groundbreaking tours, the band continues to sellout festivals and concerts worldwide, satisfying diehard fans and winning new ones in the process. newsboys fourteenth record, GO, debuted at No. 51 on the Billboard Top 200 chart. For more information visit www.newsboys.com.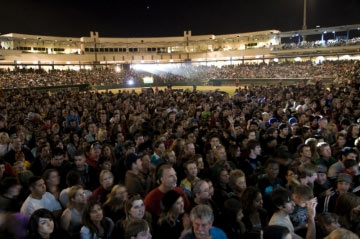 ###