Casting Crowns Performs For First Lady Tonight on TNTs Christmas In Washington special
Casting Crowns, Kristin Chenoweth, Julianne Hough, Darius Rucker,
Raphael Saadiq and Straight No Chaser Slated to Ring in the Holidays
In TNT's Annual Music Concert CHRISTMAS IN WASHINGTON

Dr. Phil and Robin McGraw to Host Musical Celebration for Fifth Year
Concert Premieres Exclusively on TNT Wednesday, Dec. 17, at 8 p.m. (ET/PT)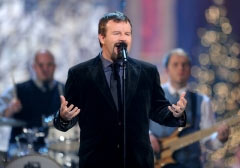 Pictured Above: Casting Crowns performing at TNT's CHRISTMAS IN WASHINGTON concert
NEWS SOURCE: Provident Label Group
December 17, 2008
WHAT: TNT's CHRISTMAS IN WASHINGTON, the annual holiday concert event now in its 27th year. Taped at the National Building Museum in Washington, D.C., and premiering on TNT Wednesday, Dec. 17 at 8 p.m. (ET/PT).
WHO: Performances will include Casting Crowns ("I Heard the Bells on Christmas Day"); Kristin Chenoweth ("I'll Be Home for Christmas" and "What Child is This"); Julianne Hough ("Jingle Bell Rock," "Santa Baby" and "Rockin' Around the Christmas Tree"); Darius Rucker ("If I Had Wings"); Raphael Saadiq ("Merry Christmas, Baby"); and Straight No Chaser ("Carol of the Bells" and "The 12 Days of Christmas"). Dr. Phil & Robin McGraw host. First Lady Laura Bush is among the honored guests for the hour-long holiday concert.
WHEN: TNT Premiere: Wednesday, Dec. 17 at 8 p.m. (ET/PT)
TNT Encores: Wednesday, Dec. 17, at 11 p.m. and 2 a.m. (ET/PT)
Turner Network Television (TNT), one of cable's top-rated networks, is television's destination for drama and home to such original series as the acclaimed and highly popular detective drama The Closer, starring Kyra Sedgwick; Saving Grace, starring Holly Hunter; Raising the Bar, with Mark-Paul Gosselaar, Gloria Reuben and Jane Kaczmarek; Leverage, starring Timothy Hutton; and Trust Me, with Eric McCormack and Tom Cavanagh. TNT also presents such powerful dramas as Bones, Cold Case, Law & Order, Without a Trace, ER and Charmed; broadcast premiere movies; compelling primetime specials, such as the Screen Actors Guild Awards®; and championship sports coverage, including NASCAR and the NBA. TNT is available in high-definition.
Turner Broadcasting System, Inc., a Time Warner company, creates and programs branded news, entertainment, animation and young adult media environments on television and other platforms for consumers around the world.
This information can also be accessed on TBS, Inc.'s press site at http://news.turner.com.
For more on Casting Crowns, visit www.castingcrowns.com.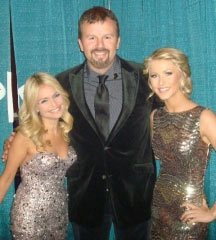 Pictured Above (L-R): Kristin Chenoweth, Casting Crowns' lead singer Mark Hall and Julianne Hough
###