FAMILY FORCE 5 RELEASE FIRST "REALLY REAL SHOW" DVD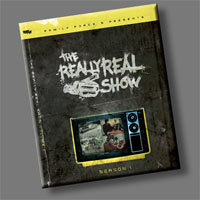 NEWS SOURCE: Family Force 5, a Jesusfreakhideout.com report
January 6, 2009
This just in from Family Force 5... "Our online store is back! AND...We have a New Year's treat for you! That's right, it's back for the attack! We apologize for the inconvenience and the delay, but it was totally worth it. The new online store is much easier to navigate than our last one, and it looks incredible! Check it out here!
I'm sure you're wondering about the treat we mentioned in the title of the blog... it's not Cracklin' Oat Bran, it's not stolen trail mix, and it's not a sandwich with AJAX instead of honey...it's the Really Real Show Season 1 DVD! Tub-O dug up some of the deleted scenes, and we all sat around recording audio commentary for a DVD critics are calling, "Family Force 5's 1st DVD!" Make sure to check it out Here!"
DVD Info:
You've seen them online, now enjoy the first seven episodes of The Really Real Show in their entirety on DVD! That's right...now you can watch these award-winning* mini-documentaries about America's favorite band on your large, flat screen TV! Imagine watching The RRS in high-quality, turned up louder than you'd ever dream about on your computer. In fact, you may even be able hear new background noise that gives a whole new meaning to every RRS episode or that reveals the meaning of life, though we make no promises. In addition, the disc contains hours of bonus footage, outtakes and behind-the-scenes interviews with the band members.
*The band's Myspace page, housing the videos, was voted "Best Band Website" in the 2007 CCM Reader's Choice Awards.
EPISODE SYNOPSES
Really Real Show 1: Join Soul Glow Activatur, Crouton, Fatty, Nadaddy and Chap Stique as they introduce themselves in the very first episode of this revolutionary web series. Learn the roles of the band members as they keep the FF5 machine running and catch up with "Hype Man Extraordinaire" Xanadu and their tour manager, Ziploc, as he is forced to shut down a massive fan riot while on tour in Chattanooga, TN. Also, meet up with Soul Glow, Crouton and Fatty's mother who shares a little song and reminisces with the kids.
Really Real Show 2: Family Force 5 get pumped up for a show as we are taken behind-the-scenes to experience pre-performance rituals of the band including grueling work-outs, guitar choreography rehearsal, healthy meals and intense vocal warm-ups. Included in this epis ode ar e a few bonus tips from the Crouton school of fashion.
Really Real Show 3: The band finds themselves in a sticky situation on their day off as they visit the local shopping mall and browse and test out new high-tech gadgets at The Sharper Image. When playing with a sound amplifier, Soul Glow discovers that Ziploc and Xanadu are having a little fun on their own talking about the egos of the band members. Find out what happens when the band decides to confront their team!
Really Real Show 4: In the new year, we all usually vow to drop a pound or two, but Crouton's weight issues seem to be out-of-control as the band realizes they are spending thousands of extra dollars on studio time when Crouton's drums aren't coming out just right due to his excess weight and the emergence of ... "cankles!" Nadaddy takes the young drummer under his wing and helps him begin a new workout routine including playground obstacle cours es and roller skating rinks. Strap on your sweatband and come along!
Really Real Show 5: In this classic RRS episode, the band shares their love for love with one of their most popular tracks to date, "Valentine's Day." Join FF5 as they attend the "Men's Meeting for Men who are Single when it's Valentine's Day" and watch this beautiful song come together before your eyes. "You gotta stop! ...and smell the dozen."
Really Real Show 6: The guys have a ton of fun on their Snow Day in Mass! Well, most of the guys...watch as some take the time to enjoy the hot tub and pool while other members work hard outside with the risk of getting hypothermia. Also, experience a rare re-enactment when on the way to a show the band had to ration out a power bar, fear the onset of carbon monoxide poisoning and were even approached by an officer of the law during a winter weather traffic jam.
Really Real Show 7: Watch as FF5 is forced to hold auditions for a new hype-man as Xanadu announces he is leaving. The band fights back tears and somehow makes it through round after round of one horrible audition after another as they search for a "Xana-2." Will the band ever find a replacement and will Xanadu ever return?
###

[2022]
Jan. | Feb. | March | April | May | June | July | Aug. | Sept. | Oct. | Nov. | Dec.
[2021]
Jan. | Feb. | March | April | May | June | July | Aug. | Sept. | Oct. | Nov. | Dec.
[2001 - 2022]
Visit our complete MUSIC NEWS ARCHIVE