STORYSIDE:B BASSIST PASSES SUDDENLY
NEWS SOURCE: STORYSIDE:B, a Jesusfreakhideout.com report
January 19, 2009
We just got an email from a fan StorySide:B fan informing us of the sudden passing of the band's bassist Ron McClelland over the weekend. The band writes...
We will miss our brother Ron

Im sure a lot of you have many questions regarding to what it says about Ron on our myspace. Yesterday January 18 Ron passed away. He was on a cruise with his wife Rebecca and 88.1 The Promise out of Jacksonville FL. He was playing basketball and suddenly collapsed, and they were unable to revive him. We are all shocked and deeply saddened of our brothers passing. Please keep his family and wife Rebecca in your prayers. We will be setting up a donation fund to help offset the cost of the funeral and to help support Ron's family. God Bless,
StorySide : B
**UPDATE: The Afters paid tribute to Ron in a blog this evening. They wrote...
We recently found out that our dear friend Ron from the band Story Side B died unexpectedly yesterday. He was on a cruise with his wife, Rebecca when he collapsed playing basketball. The Doctors onboard the ship were unable to revive him.Anyone who knew Ron can testify that he was one of a kind. He was big, buff and could seem intimidating...but was really a big teddy bear with a sweet spirit. He had a heart of gold, loved the Lord and genuinely cared about others and would do anything for his friends. Everyone who knew him, loved him.Please keep his wife Rebecca and the rest of his family in your prayers. Also pray for his bandmates...you can send them a message here: www.myspace.com/storysideb We'll miss you Ron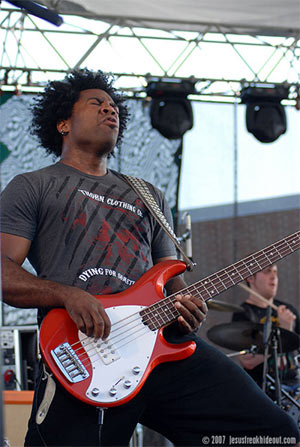 ###

[2020]
Jan. | Feb. | March | April | May | June | July | Aug. | Sept. | Oct. | Nov. | Dec.
[2019]
Jan. | Feb. | March | April | May | June | July | Aug. | Sept. | Oct. | Nov. | Dec.
[2001 - 2018]
Visit our complete MUSIC NEWS ARCHIVE