RunningHope.org Partners With Shaohannah's Hope,
Utilizing Running/Walking Events To Bring Awareness To The Orphan Cause Around The World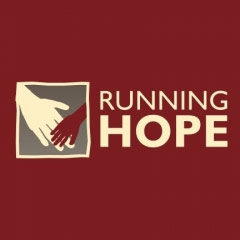 NEWS SOURCE: Vining Media
January 29, 2009
Franklin, TN - January 29, 2009 - Shaohannah's Hope, the ministry of Steven Curtis Chapman and his wife dedicated to helping families overcome financial barriers associated with adoption as well as raise awareness about the worldwide plight of orphans, is honored to announce their partnership with Running Hope. Running Hope is an organization with a mission to utilize running and walking events to generate awareness and resources to support charitable organizations across the nation, working to make a difference for the 133 million orphans around the world (ref. UNICEF).
"While we find our nation in widespread economic unrest, this exclusive strategic partnership gives individuals, both runners and walkers, a chance to do something significant with their time and energy for orphans," explains Scott Hasenbalg, Executive Director of Shaohannah's Hope. "There is something for everyone in this program."
TEAM RUNNING HOPE
Upon joining Running Hope, members create a personal webpage to share their story and help raise money that will bring home orphans to their forever families. Member webpages can honor a special orphan or family who is in the adoption process, share photos and personal messages, and even say thank you for a received grant from Shaohannah's Hope. Participants are also able to track their fundraising progress and be notified when donations are made.
Running Hope is based in Atlanta and was founded by Tony and Marilyn Amburgy who were inspired to run for the world's orphans after attending a Shaohannah's Hope benefit in 2006. New to running at the time, Tony Amburgy learned many people participate in walking and running events to raise financial support and awareness for specific causes and charities. Amburgy began to consider running for a purpose, feeling called to support orphan causes. Partnering with Shaohannah's Hope, Running Hope was born.
"Adoption is the perfect picture of what God has done for us," states Steven Curtis Chapman. "Running Hope is building bridges for orphans - helping them find their forever family."
To find out more about how you can participate as a Team Running Hope member, please visit www.RunningHope.org and www.theorphancause.org. For more information on Shaohannah's Hope, please visit www.ShowHope.org. To read the personal testimonies from Tony and Marilyn Amburgy, please see RunningHope.org/about.php.
In closing, Tony Amburgy shares, "The greatest blessing is not what we do for orphans, but what they do for us. Come join the blessing."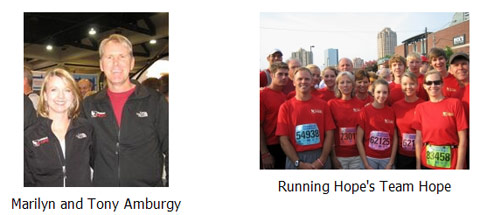 [2022]
Jan. | Feb. | March | April | May | June | July | Aug. | Sept. | Oct. | Nov. | Dec.
[2021]
Jan. | Feb. | March | April | May | June | July | Aug. | Sept. | Oct. | Nov. | Dec.
[2001 - 2022]
Visit our complete MUSIC NEWS ARCHIVE