DOLLY PARTON, MICHAEL W. SMITH, BOBBY JONES, DIXIE HUMMINGBIRDS AND LARI GOSS INDUCTED INTO GMA GOSPEL MUSIC HALL OF FAME THIS WEEK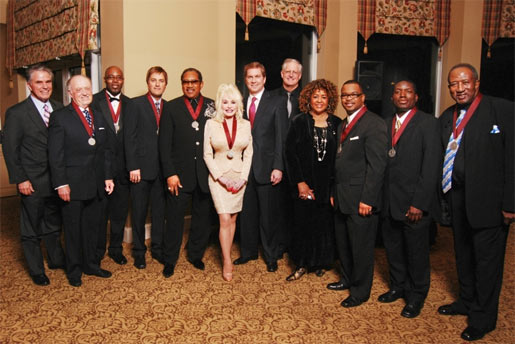 NEWS SOURCE: Spinhouse PR
February 4, 2009
NASHVILLE, Tenn. – Feb. 4, 2009 -- The GMA Foundation (GMAF) inducted artists Michael W. Smith, Dolly Parton, Dr. Bobby Jones and The Dixie Hummingbirds along with music producer Lari Goss into the GMA Gospel Music Hall of Fame on Feb. 2, 2009 at a ceremony at Richland Country Club in Nashville.
The GMA Gospel Music Hall of Fame was established in 1971 and has inducted more than 150 members since its inception, including 2007 inductees Phil Keaggy, The Statler Brothers, The Winans and Joe Moscheo. Previous inductees include Elvis Presley, Mahalia Jackson, Keith Green, Amy Grant, the Blind Boys of Alabama, Andrae Crouch, Sandi Patty, Vestal Goodman, Tennessee Ernie Ford, 2nd Chapter of Acts, The Oak Ridge Boys, Petra, Bill and Gloria Gaither, the Rambos, Evie, Richard Smallwood, Jake Hess, The Lewis Family, Thomas A. Dorsey, the Fairfield Four, Billy Graham and the Jordanaires.
About the GMA Foundation:
The GMA Foundation (GMAF) is a non-profit educational association working in connection with the Gospel Music Association (GMA) The GMAF recognizes and preserves the history and legacy of all forms of gospel music and provides educational resources that encourage participation and appreciation by the general public. Founded in 1964, the Gospel Music Association serves as the face and voice for the Christian/Gospel music community and is dedicated to exposing, promoting and celebrating the gospel through music of all styles including pop, rock, praise & worship, black gospel, R&B, hip hop, southern gospel, country, and more. The GMA community consists of more than 3,000 members including agents, artists, church leaders, managers, promoters, radio personnel, record company executives, retailers, songwriters and other industry visionaries. The GMA produces the GMA Dove Awards, GMA Music Week and the GMA Academy. For more information, please visit http://www.gospelmusic.org/.
In photo above, from left to right:
Steve Brallier, executive director of GMA Foundation; Inductee Lari Goss; Inductee Lyndon Baines Jones of Dixie Hummingbirds; Inductee Michael W. Smith; Inductee Dr. Bobby Jones; Inductee Dolly Parton; Ed Harper, chairman of the GMA Foundation Board; John W. Styll, president and CEO of GMA; Inductees Dixie Hummingbirds Sundray Tucker (daughter of deceased Ira Tucker), Carlton Lewis, William Bright and Torrey Nettles. (Photo by Aaron Crisler)
###

[2020]
Jan. | Feb. | March | April | May | June | July | Aug. | Sept. | Oct. | Nov. | Dec.
[2019]
Jan. | Feb. | March | April | May | June | July | Aug. | Sept. | Oct. | Nov. | Dec.
[2001 - 2018]
Visit our complete MUSIC NEWS ARCHIVE