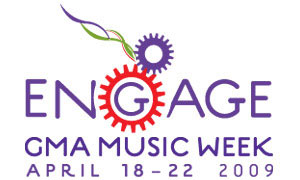 GMA REDUCES PRICE OF REGISTRATION FOR GMA MUSIC WEEK 2009
-Now More Than Ever, GMA Encourages Music Community To Gather for April Convention-

-Registration Rate is the Lowest in 12 Years-


NEWS SOURCE: Spinhouse PR
February 11, 2009
NASHVILLE, Tenn. – February 11, 2009 – Attending GMA Music Week April 18-22, 2009, in Nashville just became more affordable thanks to a newly announced registration rate drop. The newly reduced rate of $299 for Gospel Music Association (GMA) members goes into effect today and will be available until April 6. This is the lowest registration rate offered by GMA in more than a decade.
"GMA understands the tremendous financial pressures we are all facing during this time of economic difficulties in our industry and our country, and we don't want that to be an obstacle that will prevent someone from attending GMA Music Week. We believe this GMA Music Week, perhaps more than any other in recent history, is one that no one in our community can afford to miss," said John W. Styll, president and CEO of GMA. "We believe it is so important to engage together so that, together, we might take stock of trends affecting our industry; explore better ways to do our jobs and to discover the new and rising artists that will take our music into the future."
The $299 registration rate is available to GMA members registering between now and April 6 and is an $80-170 discount off registration rates. Non-members may qualify for the discounted rate by becoming a GMA member ($95 for individual annual professional membership). More information and registration for GMA Music Week 2009 is now available online at http://www.gospelmusic.org/events/summaryDetail.aspx?aid=9&pid=33.
In addition to the reduced registration rates, GMA also recently announced the addition of several new sessions and speakers devoted to the subject of today's economic difficulties. Two new classes, featuring financial experts and leading authors Michael Q. Pink and Bethany and Scott Palmer, along with a session featuring Dave Ramsey's Wealth Program, will provide attendees inspiration, insight and creative solutions to both professional and personal concerns.
Other speakers announced for GMA Music Week include Louie Giglio and authors Gabe Lyons and William P. Young. Giglio is the visionary founder and director of Choice Ministries, Passion Conferences and sixsteps Records. Lyons is the founder of the Fermi Project and co-author of unChristian (Baker Books), and Young is the author of The New York Times best-selling novel The Shack (Windblown Media).
"We are glad that we will be able to offer specific classes this year that address the important matters of personal and business finances within the context of music and ministry and to engage speakers that will inform and inspire us," said Styll.
Thousands gather each April in Music City for GMA Music Week. Artists, radio, retail, managers, agents, promoters, record companies, publishers, media, marketing and public relations professionals and others join together for more than 100 artist performances, educational seminars, spiritual enrichment, and unparalleled networking opportunities. With all music genres represented including pop, rock, praise & worship, black gospel, R&B, hip hop, southern gospel, country, and more, GMA Music Week is the must-attend convention of the year for anyone doing business in or with the Gospel music community.
The 40th Annual GMA Dove Awards will take place April 23, 2009 at the Grand Ole Opry House in Nashville, Tenn. Tickets to the 40th Annual GMA Dove Awards are on sale now at www.ticketmaster.com or by calling 615-242-0303. Nominations for the Dove Awards will be announced in Nashville on Feb. 20.
About GMA:
Founded in 1964, the Gospel Music Association serves as the face and voice for the gospel/Christian music community and is dedicated to exposing, promoting and celebrating the gospel through music of all styles including pop, rock, praise & worship, black gospel, R&B, hip hop, southern gospel, country, and more. The GMA community consists of 4,000 members including agents, artists, church leaders, managers, promoters, radio personnel, record company executives, retailers, songwriters and other industry visionaries. The GMA produces the GMA Dove Awards, GMA Music Week and the GMA Academy. For more information, please visit www.gospelmusic.org.
###

[2020]
Jan. | Feb. | March | April | May | June | July | Aug. | Sept. | Oct. | Nov. | Dec.
[2019]
Jan. | Feb. | March | April | May | June | July | Aug. | Sept. | Oct. | Nov. | Dec.
[2001 - 2018]
Visit our complete MUSIC NEWS ARCHIVE