ARROW RECORDS ANNOUNCES
"WHATCHAMACALLIT" FAN CONTEST
TO FIND CANTON JONES' NEXT GREAT ALBUM TITLE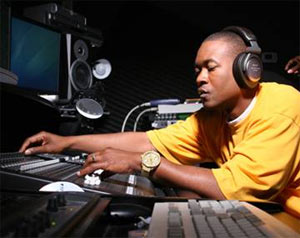 NEWS SOURCE: W&W PR
March 11, 2009
Atlanta, GA (March 11, 2009) Grammy, Stellar and Dove Award-nominated artist Canton Jones is on a search to get the perfect title for his next record. Currently working on his fourth original album for Arrow Records, gospel hip hop artist Canton Jones is a young but seasoned artist whose positive and outstanding range of talents have made him a fan favorite with his exhilarating stage shows, catchy mix of music that crosses genres from hip hop to gospel, R&B and more, and encouraging messages about faith and lifeís struggles and choices. Reaching out to his fans for their inspiration, Canton Jones is working hard on his record, set for a 2009 release, and inviting fans to get creatively involved in the record-making process with the new "Whatchamacallit" contest to submit names for the album title.
Launching March 11th, Arrow Records is giving fans a chance to name Canton Jones' next album, with a "Whatchamacallit" contest through their website, www.arrow-records.com. From March 11th through March 20th, fans can offer what they think will be the winning title for Canton Jonesí latest project, and get a chance to win some prizes, by emailing their submissions to contest@arrow-records.com. Winners will be announced on March 23rd, and with a grand prize package that includes a Canton Jones Anthology (complete collection of Arrow Records catalog of Canton Jones autographed CDís), autographed CD, a t-shirt and inclusion on next album. The second place winner will receive an autographed CD and t-shirt and the third place winner will receive an autographed CD.
For more information about Canton Jones, please visit www.cajointernational.com, www.myspace.com/therealcantonjones and www.myspace.com/officialarrowrecords, www.arrow-records.com
About Canton Jones
Based in Atlanta, Jonesí positive messages and talent have made him a rising star, who is well-regarded by both gospel artists and his secular peers in the Hip Hop and R&B worlds. His uncompromising approach to spreading the Good News of Jesus Christ through music has brought him many accolades and inspired many fans. Jones is a member and a Praise and Worship leader at World Changers Church International, where Dr. Creflo Dollar is the Senior Pastor. Jones is also one of the breakout artists on Arrow Records, which is owned and operated by Dr. Creflo and Pastor Taffi Dollar.
About Arrow Records
Arrow Records, an affiliate of Creflo Dollar Ministries, is a Word-based record company located in College Park, Georgia. Established in 1998, our mission is to restore gospel music back to its original purpose-to usher in the power and presence of God in order to encourage the brokenhearted, heal the sick, deliver the captive and save the lost through the rhythm and beat of hip-hop, jazz, praise and worship, pop, urban, instrumental, inspirational, contemporary and traditional black gospel, and alternative sounds.
###

[2021]
Jan. | Feb. | March | April | May | June | July | Aug. | Sept. | Oct. | Nov. | Dec.
[2020]
Jan. | Feb. | March | April | May | June | July | Aug. | Sept. | Oct. | Nov. | Dec.
[2001 - 2020]
Visit our complete MUSIC NEWS ARCHIVE