RUSH OF FOOLS HEADLINING TOUR,
WONDER OF THE WORLD, GENERATES STRONG SUPPORT ON THE ROAD
Band's Mainstream Single Remains In Top 15 On Billboard And R&R Charts

NEWS SOURCE: Bozeman Media
March 16, 2009
Nashville, TN (March 16, 2009) ---- The response has been enthusiastic for Rush Of Fools' first headlining tour, Wonder Of The World, in support of their latest CD. The show has a strong lineup of incredible talent that also includes; Jimmy Needham, Sarah Reeves, and Joy Lippard. When the tour ends on April 5th, it will have covered seventeen cities with the show performing before an estimated ten-thousand people. The tour recently played the Nashville area at Metro Baptist Church in Goodlettsville with a sold out crowd, the third sell out on the tour to date. The Nashville appearance garnered media support with a feature in the Nashville City Paper and interviews on The Fish and WAY-FM's Total Axxess. The tour is being sponsored by Freedom Begins Here, a non-profit organization that is working to stop pornography and sexual addiction through research tools available for churches and individuals.
"It seems almost hilarious to think of where God has brought us fools from Alabama in such a short time," says Kevin Huguley, Rush Of Fools. "We see the providential plan of God in our lives more now than ever. What is also remarkable is to have such phenomenal artists out on the road with US for our very first tour. Thanks to Jimmy and his gang, Sarah, Joy and our incredible crew for such a memorable moment in our career. A huge thanks goes to Freedom Begins Here, our headlining sponsor and long time ministry partner, who care so much to see the Church freed from sexual addiction and pornography. Over all things, we just thank Jesus for the cross, for without the shedding of His blood, there would be no remission for our sin. Soli Deo Gloria, to God alone be the glory for the WOTW tour! Grace and peace."
Rush Of Fools remains one of the hardest working tour bands in Christian music and also is a current favorite on the mainstream charts. "Never Far Away," the new duet with Jim Brickman is #12 on the Billboard AC chart and #13 on Radio & Record's AC Monitored chart. Their current Christian single, "Lose It All," is going for adds at AC radio after reaching #4 on the CHR chart. Currently, the song has 44 adds with new additions including; WAWZ/New York City, New Life Network, and Reach FM Network.
Houston, Texas-based singer/songwriter Jimmy Needham has released a new single "Forgiven and Loved" that has just received airplay from KSBJ and is currently climbing the Christian AC charts. The song is from Needham's current project, Not Without Love that released August 19, 2008. For more information on Jimmy Needham, visit: www.jimmyneedham.com.
Nineteen-year-old Alabama native, Sarah Reeves is poised to release her Sparrow Records debut, Sweet, Sweet Sound, April 21st. The project's first single and title track is currently vying for adds at all Christian radio formats and the song is now available online via all digital music outlets. For more information on Sarah Reeves, visit: www.sarahreeves.net.
The self-titled debut from 18-year-old singer/songwriter Joy Lippard released at worldwide retail February 24th through a distribution partnership with Go Global Entertainment and Koch Entertainment. Her new radio single, "Walk Me Home," goes for adds this Friday, March 13, at Christian CHR radio. For more information on Joy Lippard, visit: www.joylippard.com.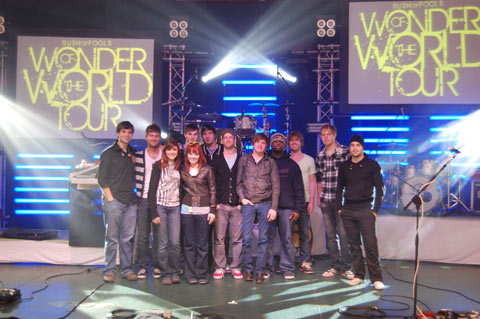 TOUR PHOTO (Left to Right):
Joy Lippard; Sarah Reeves; Kevin Huguley (Rush Of Fools); Jimmy Needham; Wes Willis, Jamie Sharpe, Jacob Chesnut (Rush Of Fools); Tim Dillon (Guitar, Keyboard/Jimmy Needham); Chasen Little (Drums/Jimmy Needham); Tyler Halford (Bass/Jimmy Needham); Ben Reeves (Guitar/Sarah Reeves); JD Frazier (Rush Of Fools).
For more information on Rush of Fools, visit the JFH Artists Database.
###

[2021]
Jan. | Feb. | March | April | May | June | July | Aug. | Sept. | Oct. | Nov. | Dec.
[2020]
Jan. | Feb. | March | April | May | June | July | Aug. | Sept. | Oct. | Nov. | Dec.
[2001 - 2020]
Visit our complete MUSIC NEWS ARCHIVE