- PROVIDENT'S FRIDAY BUZZ -
FOR THE WEEK ENDING MARCH 20, 2009
MICHAEL W. SMITH RELEASES
A NEW HALLELUJAH- THE LIVE WORSHIP DVD

THIRD DAY'S REVELATION TOUR WITH BRANDON HEATH AND REVIVE KICKS OFF WITH FOUR SOLD OUT SHOWS

BRANDON HEATH'S BENEFIT SHOW RAISES OVER $10,000 AND COUNTING AS PART OF THE SECOND ANNUAL "LOVE YOUR NEIGHBOR" BENEFIT

MATT MAHER HELPS "RENEW YOUR PASSION" AT
WORSHIPTOGETHER.COM LIVE WORSHIP TRAINING & CONCERT

ROCK BAND RED EXPECTED TO REACH NEARLY ONE MILLION PEOPLE THROUGH SPRING AND SUMMER TOURING


REVIVE MAKES WAVES PERFORMING ON
ATLANTA'S TOP-RATED MORNING SHOW, "GOOD DAY" ATLANTA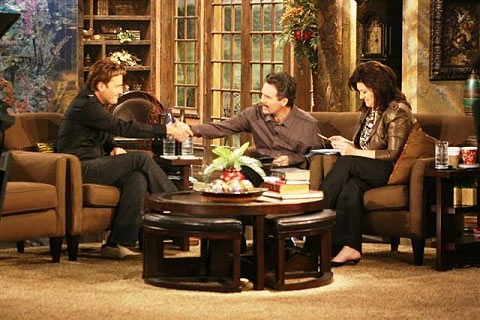 Michael W. Smith at Daystar Studios with "Live Celebration" hosts, Marcus and Joni
NEWS SOURCE: Provident Label Group
March 20, 2009
Michael W. Smith Releases A New Hallelujah- The Live Worship DVD: March 17, Michael W. Smith released the video companion to his newest record, and third worship album, A New Hallelujah. Recorded live in Houston last summer before 12,000 people, a 250-voice choir and several special guests including the African Children's Choir and 2008 GRAMMY Award-winner, Israel Houghton, this DVD captures the powerful experience of the evening's worship in high-definition. The 90-minute long project features all 13 songs from A New Hallelujah (10/28/08), plus four new tracks and exclusive behind-the-scenes footage. "Smitty" kept busy this street week with the taping of a two-hour special during the network's "Praise the Lord" show block with special guests Meredith Andrews and Paul Baloche, hosted by Donnie McClurkin. The entire two-hour block was devoted to A New Hallelujah (10/28/08)and A New Hallelujah – The Live Worship DVD (3/17/09). The show will air Friday, March 20, 2009. (Check local listings for airtimes in your area).
Michael also spent time on air with FamilyNet Radio, American Family Radio and Moody Radio and performed live at the Daystar TV Studios where he was featured on three of the network's anchor shows: "Live Celebration", "Celebration Music" and the "Joni Show." Today, Michael was at the Rivers' Ranch and the guest for K-LOVE's "Morning Show with Jon and Sherry".
After a week of hard work promoting his new project, Michael will wrap things up Friday evening with a benefit for Trinity Christian Academy at Watermark Church in Dallas, TX. To learn more about Michael W. Smith, or to watch clips from A New Hallelujah- The Live Worship DVD, please visit: www.michaelwsmith.com.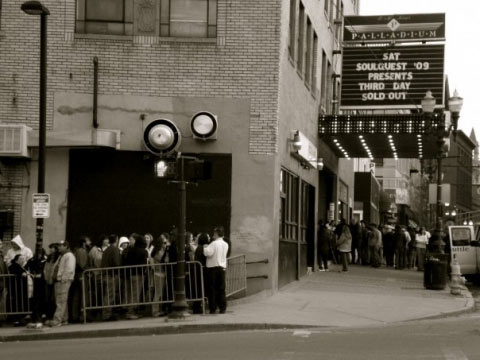 Third Day's Revelation Tour with Brandon Heath and Revive Kicks Off With Four Sold Out Shows: The Northeast is widely known to be a very difficult region for Christian music. With a smaller segment of the population identifying itself as evangelical, and a less robust network of Christian radio stations, the infrastructure that normally supports Christian music and specifically Christian tours is simply not intact. Throw in an economic crisis, and the formula for a successful Third Day show would seem to be nonexistent. Despite these facts, THE REVELATION TOUR has had an impressive showing in this region. In 3 days, Third Day performed for close to 8,000 fans in 3 cities. The McMurray, PA shows and Worcester, Mass shows were completely sold out with 3,000 + fans in Maine. Third Day currently has four sold out dates for the THE REVELATION TOUR. Mac Powell commented from stage at the sold out Palladium Theater that he enjoyed the audiences of the Northeast because their faith costs them something. "In the south, there is a church on every corner. If you're born in America, and you haven't killed anybody, people call themselves Christians. Up here, you appreciate the cost of following Christ." "We've really enjoyed this run," says bass player Tai Anderson. "The crowds are so enthusiastic, and it feels like they're really appreciative that we're here. We're committed to coming back often, and hope that other Christian bands will make it a priority." To learn more about Third Day, please visit: www.ThirdDay.com.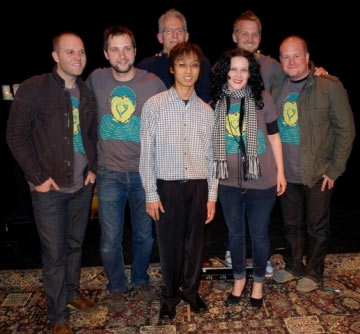 Pictured L-R: Matthew West; Brandon Heath; Don Kirby, David's teacher (back); David Atmajaya, beneficiary (front); Tiffany Lee, Plumb; Jason Ingram (back) and Matt Bronleewe, producer
Brandon Heath's Benefit Show Raises Over $10,000 and Counting as Part of the Second Annual "Love Your Neighbor" Benefit: Brandon Heath's "Save David's Eyes" benefit show on March 11 hosted roughly 600 guests who raised over $10, 000 for one high school student. Heath hosted the benefit to raise surgery funds for 18-year old glaucoma patient, David Atmajaya. Heath launched into the show with Jason Ingram and Tiffany Lee (Plumb) by playing three songs each. Mike Donehey from Tenth Avenue North joined the stage and performed "By Your Side" with songwriter Jason Ingram. Heath closed the benefit show with his Grammy-nominated, megahit "Give Me Your Eyes." In support of the cause, Stuph Merch donated over 70 t-shirts featuring the benefit artwork, all of which sold out before the event finished. For more information about Brandon Heath and the "Love Your Neighbor Benefit," please visit: www.brandonheath.net.
Matt Maher Helps "Renew Your Passion" at WorshipTogether.com Live Worship Training & Concert: This Spring Matt Maher joins other top worship leaders in a WorshipTogether Live event. This "workshop" combines practical and motivational worship training with passionate and inspiring worship concerts. Top worship leaders involved in this tour include: Matt Maher (Your Grace Is Enough, As It Is In Heaven), Brenton Brown (Everlasting God, Hosanna), Michael Gungor Band (Friend of God, Ancient Skies) and Kelly Minter. This unique one day event was created specifically for worship leaders, worship team members and worship enthusiasts. "We are very excited about the opportunity to resource you and worship with you at the rest of the events over the next couple of weeks," says Matt Maher. Renew your passion! Please visit www.mattmahermusic.com to find a WorshipTogether Live event near you.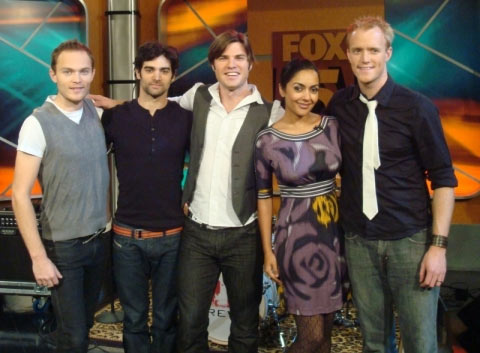 Pictured L-R: Tyler Hall, Mike Tenkate, Dave Hanbury, Suchita Vadlamani ("Good Day Atlanta" Co-Host), and Rich Thompson
Revive Makes Waves Performing on Atlanta's Top-Rated Morning Show, "Good Day Atlanta": Revive, Australia's latest musical export and high-energy pop/rock band, introduced its new album Chorus of the Saints on Atlanta's top-rated morning show, "Good Day Atlanta". Vocalist, Dave Hanbury discussed the band's move from Australia and the blessings they have experienced since arriving in the States. Revive wrapped up the show with the performance of their current single "Chorus of the Saints." To watch the complete "Good Day Atlanta" interview and performance, visit: http://www.myfoxatlanta.com/dpp/good_day_atl/Revive_Releases_New_CD_031709. To see the band's reaction to the show, visit Revive's video blog at: www.reviveband.com.
Rock Band Red Expected to Reach Nearly One Million People Through Spring and Summer Touring: With the mega-success of Innocence & Instinct on both radio and sales charts, it is no surprise that Red has a solid tour schedule through the spring and summer seasons. With Red's headlining dates as well as summer festivals, it is expected to reach nearly one million people. Red will be touring with Trapt and will also do a couple shows with 3 Doors Down and Papa Roach. For more information about Red's touring schedule, please visit: www.myspace.com/dropofred.