"HELL OR HIGH WATER" AS CITIES BURN WILL RELEASE
NEW STUDIO EFFORT 4/21/09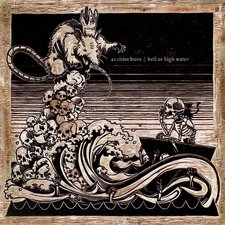 NEWS SOURCE: Overture Media
March 24, 2009
SEATTLE, WA...MARCH 24, 2009...Following the success of two previous efforts, Louisiana-based As Cities Burn is set to introduce their new studio recording Hell or High Water releasing April 21st on Tooth & Nail Records. Track listing below. An exclusive track ("Gates") will also be available on iTunes with the release of Hell or High Water.
Recorded in Cleveland, TN at First Street Studio over three months, Hell or High Water, takes the band in a new direction with more focus on creating an ambient and rooted rock sound. Produced primarily by songwriter/lead Cody Bonnette along with the aid of Tyler Orr, Jae Ham, Robert Chisolm and Tyler Schwindt, the album was recorded to sound more similar to the band's live sound.
The album takes the sound of Come Now Sleep (2007) and strips it even barer instrumentally, while breathing a more reflective take on the music scene ("Errand Rum") love ("Lady Blue") and an artistically blunt finale that passes the torch to other great acts ("Capover"). With "Hell or High Water," the band has created a brutally honest and musically progressive record that wise listeners will surely be discussing about amongst themselves.
Track Listing for Hell or High Water

84' Sheepdog
Errand Rum
Into the Sea
Made Too Pretty
Lady Blue
Round and Round
Petty
Daughter
Pirate Blues
Capoover
About As Cities Burn
As Cities Burn hails from Louisiana and includes Cody Bonnette (vocals, guitar), Christopher Lott (guitar), Colin Kimble (bass) and Aaron Lunsford -(drums). The band formed in 2002 and have released two projects on Solid State/ Tooth & Nail Records: "Son, I Loved You at Your Darkest" (2005); "Come Now, Sleep" (2007). The band has toured with Emery, So Long Forgotten and Jonezetta. You can find them online at www.myspace.com/ascitiesburn
About Tooth & Nail Records:
What began in a bedroom over a decade ago has grown organically to become the enthusiastic support system behind many of the most important rock bands operating, including Underoath, Emery, Hawk Nelson, Thousand Foot Krutch and The Almost. With headquarters in Seattle and offices in Nashville, Tennessee and elsewhere, Tooth & Nail Records is also the parent company to Solid State Records (Demon Hunter, Haste The Day) and BEC Recordings (Jeremy Camp, Kutless). Label founder Brandon Ebel became immersed in the network of musicians, clubs, fanzines and promoters who were making waves with bands whose positive messages (whether translated through melodic punk or heavy rock) and creative, inspired music. Driven to this unique perspective, the music press has caught on and embraced many T&N bands the kids already knew. With new signings like Family Force 5, Copeland, Capital Lights and The Becoming injecting fresh life into the company, Tooth & Nail continues to be a vital, dominant presence in the contemporary music scene. For more information, visit www.toothandnail.com .
For more information on As Cities Burn, visit the JFH Artists Database.