- PROVIDENT'S FRIDAY BUZZ -
FOR THE WEEK ENDING MARCH 27, 2009
THIRD DAY FEATURED ON GOSPEL MUSIC CHANNEL'S NEW SERIES
THIS SATURDAY

WATCH REVIVE PRANK BRANDON HEATH ON THE "REVELATION TOUR"

MICHAEL W. SMITH PERFORMS FOR CROWD OF 6,000 AT KSBJ'S
"ENTER HIS GATES 10TH ANNIVERSARY BROWN BAG"
SPONSORED BY CHICK-FIL-A

THIRD DAY'S "REVELATION TOUR" AND ALBUM
DEFY MARKET TRENDS

MICHAEL W. SMITH'S A NEW HALLELUJAH RECLAIMS NO. 1 POSITION ON NEILSEN SOUNDSCAN CHRISTIAN ALBUMS CHART; A NEW HALLELUJAH-THE LIVE WORSHIP DVD DEBUTS THIS WEEK ATOP THE DVD CHART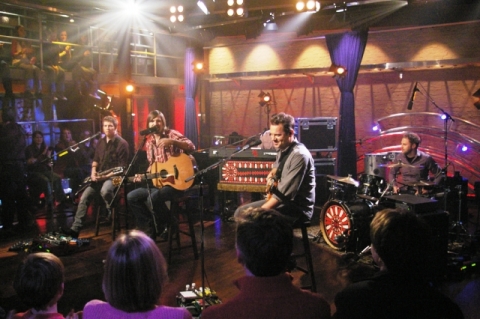 NEWS SOURCE: Provident Label Group
March 27, 2009
Third Day Featured on Gospel Music Channel's New Series "Revealed" This Saturday: On Saturday, the Gospel Music Channel television network will premiere a new original series bringing fans up close and personal with their favorite artists. Titled Revealed, the series premiere will feature GRAMMY and AMA award winning group Third Day. Third Day: Revealed premieres on Sat, March 28 at 8 p.m. ET/PT. To view pictures from the GMC set of Third Day: Revealed, please visit: www.gospelmusicchannel.com/revealed.
Watch Revive Prank Brandon Heath on the "Revelation Tour": Do you ever wonder what bands do for entertainment while out on tour? The guys of Revive pass their time by video blogging, and this week lead singer, Dave Hanbury, and bassist Rich Thompson pose as radio personalities interviewing tour mate Brandon Heath while on the road for the "Revelation Tour". This nearly 10 minute video blog is a true testament to the humor and creativity of Revive. To learn more about Revive and watch Brandon Heath's reaction, please visit: www.reviveband.com.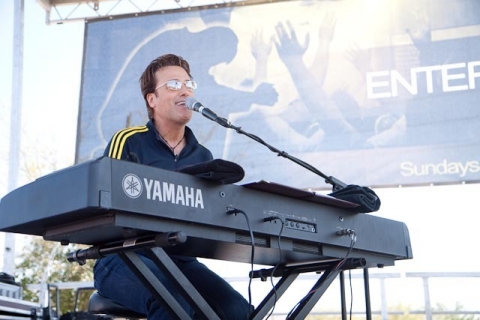 Photo Credit: Robby Holmes
Nearly 6,000 Fans Gather in Houston for Michael W. Smith's KSBJ Brown Bag Event Sponsored by Chick-Fil-A: Last week, singer/songwriter/worship leader, Michael W. Smith took the stage in sunny Houston, TX, to perform a free concert event for nearly 6,000 people. The performance was sponsored by Chick-Fil-A and was a KSBJ brown bag event celebrating Smith's release of A New Hallelujah – The Live Worship DVD as well as the 10th anniversary of "Enter His Gates" program, heard Sunday mornings on KSBJ. Michael performed music from his album A New Hallelujah, as well as old favorites. To learn more about Michael W. Smith, please visit: www.michaelwsmith.com.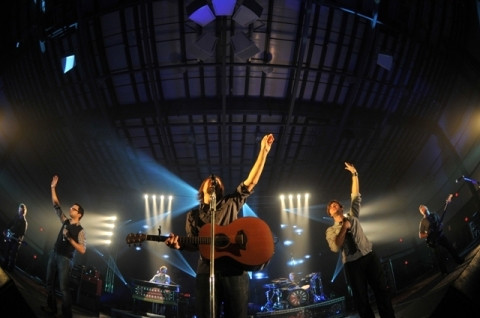 Photo Credit: Dale Manning
Third Day's "Revelation Tour" And Album Defy Market Trends: The multi-platinum, GRAMMY and AMA winning rock band Third Day is celebrating sold-out tour dates, a hit album, and a continual No. 1 radio single. The renowned band kicked off its spring "Revelation Tour" this month and has already seen its dates in Green Bay, WI, Pittsburgh, PA, Worcester, MA, Shreveport, LA and the forthcoming show in Macon, GA sell out. While other major acts are starting to bow to the current economic climate by slashing general admission ticket prices, Third Day's fan support remains as vibrant as ever. A prime example was the recent stop in Jonesboro where 4,600 of the band's fans converged on Arkansas State University's Convention Center. To learn more about Third Day, please visit: www.ThirdDay.com.

Michael W. Smith's A New Hallelujah Reclaims No. 1 Position on Neilsen SoundScan Christian Albums Chart While A New Hallelujah-The Live Worship DVD Debuts This Week Atop the DVD Chart: Following the impressive launch of A New Hallelujah (10/28/08), Michael W. Smith follows up with A New Hallelujah – The Live Worship DVD. This week, the DVD project debuted at the top of the Nielsen Christian DVD SoundScan chart and the CD reclaimed its No. 1 position on the Nielsen Christian Albums chart. The new DVD is the video companion to Smith's latest record, and third worship album, A New Hallelujah. Recorded live in Houston last summer before12,000 people, a 250-voice choir and several special guests including the African Children's Choir and 2008 GRAMMY Award-winner, Israel Houghton, this DVD captures the powerful experience of the evening's worship in high-definition. The 90-minute long project features all 13 songs from A New Hallelujah, plus four new tracks and exclusive behind-the-scenes footage. To learn more about Michael W. Smith, please visit: www.michaelwsmith.com.