Jars of Clay: Revealed Premieres Sat. April 4 @ 8:00 PM (ET/PT)
New GMC Original Series Revealed Features Gospel/Christian Music's Biggest Stars Performing in Intimate Setting & Sharing Stories Behind Their Songs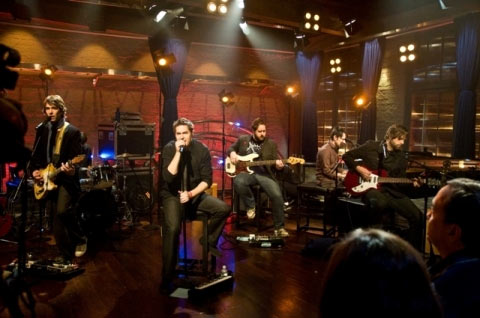 NEWS SOURCE: Provident Music Group
April 2, 2009
ATLANTA (April 2, 2009) -- Gospel Music Channel television network's newest original series Revealed brings fans up close and personal with their favorite artists, who in turn bring the fans closer by revealing insights and stories about themselves and their music. The newest installment will feature popular group Jars of Clay. Jars of Clay: Revealed premieres on Sat, April 4 at 8 p.m. ET/PT.
Among the songs featured in Jars of Clay: Revealed: "Work," "Closer," "Dead Man," "Frail," "Worlds Apart," "God Will Lift Up Your Head," "Valley Song" and "Flood." Jars of Clay: Revealed has immediate encores that night at 9p, 10p, 11p and April 16 and April 18.
Unplugged Meets Storytellers Plus Faith = Revealed. Revealed features a single artist or group performing in front of a live audience in an intimate, acoustic-like setting. The artists play songs from their latest albums, as well as past favorites and hits, and share personal stories, inspirations, writing experiences and memories behind their music. Third Day kicked off the series. The next artist to be featured in Revealed is Israel Houghton (April 25).
Jars of Clay has sold more than six million albums, won three GRAMMYS, headlined thousands of sold-out shows and festivals, and successfully launched the Blood: Water Mission, a non-profit organization promoting clean blood and water in Africa. Since the band's debut single, Flood, astonishingly topped both the mainstream and CCM charts, Jars of Clay has built an extraordinary career based on the uncompromising integrity of its music, worldview, and humanitarianism. The first studio record from the band in three years, Long Fall Back To Earth, will be released April 21 on Essential/Gray Matters Records.
Gospel Music Channel is the fastest-growing network in television and can be seen in more than 43 million homes on various cable systems around the country, on DIRECTV Channel 338 and on Verizon FiOS Channel 224.
For more info on Jars Of Clay, visit the JFH Artists Database.