- PROVIDENT'S FRIDAY BUZZ -
FOR THE WEEK ENDING APRIL 03, 2009
MARK HALL OF CASTING CROWNS AND WIFE MELANIE HONORED WITH THE ANNUAL "BEYOND CHARITY" AWARD

JOHN WALLER RELEASES SOPHOMORE ALBUM WHILE I'M WAITING ON APRIL 7, FEATURING "FIREPROOF" REMIX

JARS OF CLAY ON GOSPEL MUSIC CHANNEL SERIES REVEALED

BRANDON HEATH NOMINATED FOR SONGWRITER OF THE YEAR

CCMMAGAZINE.COM PICKS TENTH AVENUE NORTH
FOR "NEW ARTIST OF THE YEAR" IN 2009 DOVE AWARD PREDICTIONS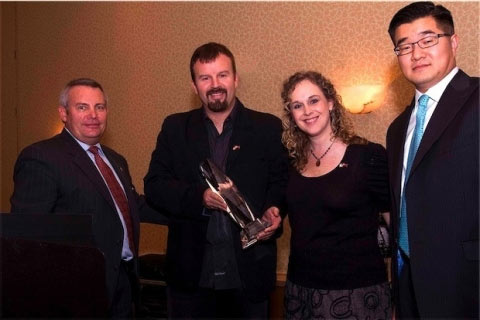 Pictured Above: Robert Springs, GRS CEO - Mark and Melanie Hall of Casting Crowns -
T. James Min, Esq., GRS Chairman of the Board
NEWS SOURCE: Provident Label Group
April 3, 2009
Mark Hall of Casting Crowns and Wife Melanie Honored with Annual "Beyond Charity" Award: The Global Resource Services (GRS) presented Mark and Melanie Hall with its annual "Beyond Charity" Award at a banquet recently for their global efforts and diplomacy in charity work. The award honors outstanding global public figures who demonstrate GRS' three foundational strategic values-- Relationships, Respect, and Reconciliation. Mark and Melanie Hall have worked with GRS since 2005 in addition to the many other charities Casting Crowns works with every year. The band traveled with GRS to North Korea in April 2007, and Casting Crowns returns to the country this month to perform at the 2009 Spring Friendship Art Festival in the Democratic People's Republic of Korea (DPK). The Annie Moses Band will also be on the trip to North Korean with GRS and performing at the Art Festival for the first time.
For more information about Global Resource Services, please visit: www.grsworld.org.
For more information about Casting Crowns, please visit: www.castingcrowns.com.

John Waller Releases Sophomore Album While I'm Waiting on April 7: John Waller, the celebrated artist behind the "Fireproof" movie anthem "While I'm Waiting," is set to release his sophomore solo album, titled While I'm Waiting, in stores nationwide Tuesday, April 7. The fan-favorite song gained instant popularity after appearing prominently in "Fireproof," the No. 1 independent movie of 2008, and became a focal point of the film as the only song played in its entirety. The theatrical release's 5 million viewers' response to the song was immediate, pushing "While I'm Waiting" into the Top 5 on iTunes Christian Songs chart, with 63,000 downloads of the song to date. For more information about John Waller, please visit: www.johnwallermusic.com.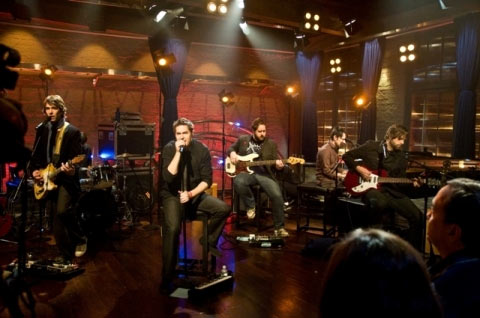 Jars of Clay on Gospel Music Channel Series Revealed: This Saturday Jars of Clay will be featured on Gospel Music Channel television network's newest original series Revealed. This series brings fans up close and personal with their favorite artists, who in turn bring the fans closer by revealing insights and stories about themselves and their music. Jars of Clay: Revealed premieres on Sat, April 4 at 8 p.m. ET/PT. Among the songs featured in Jars of Clay: Revealed: Work, Closer, Dead Man, Frail, Worlds Apart, God Will Lift Up Your Head, Valley Song and Flood. Jars of Clay: Revealed has immediate encores Saturday night at 9p, 10p, 11p and April 16 and April 18. To learn more about the Revealed series, please visit: www.gospelmusicchannel.com/revealed.
Brandon Heath Nominated for Songwriter of the Year: GRAMMY-nominated artist, Brandon Heath adds a fifth Dove Award nomination to his tally for the 40th Annual Dove Awards, receiving a nomination this week for Songwriter of the Year, as announced by the Gospel Music Association (GMA). Heath co-wrote the blockbuster, GRAMMY-nominated song, "Give Me Your Eyes," off his sophomore album What If We. The song spent 14 weeks at No.1 on Billboard's Hot Christian AC radio chart, and 27 weeks at No. 1 on iTunes Christian Song Chart, during a 7-month run at the top of the download chart following the song's release in July 2008. For more information about Brandon Heath, please visit: www.brandonheath.net.
CCMMagazine.com Picks Tenth Avenue North to Win Dove Award for New Artist of the Year: This week, CCM magazine editor Lindsay Williams and contributing writers Andy Argyrakis and Grace Cartwright chose their picks for the 40th Annual Dove Awards and came to a consensus that Tenth Avenue North would win the award for New Artist of the Year. "It's extremely hard to break a new artist at all these days, but Tenth Avenue North has definitely risen above the status quo, entering the scene with tender lyrics that have already touched the hearts of countless listeners," wrote Lindsay Williams on the editorial site. She added, "The band's songs are what set them apart. And it's the songs that define an artist's career. Based on songwriting alone, they should win the award." For more information on Tenth Avenue North, please visit: www.tenthavenuenorth.com.
* * *